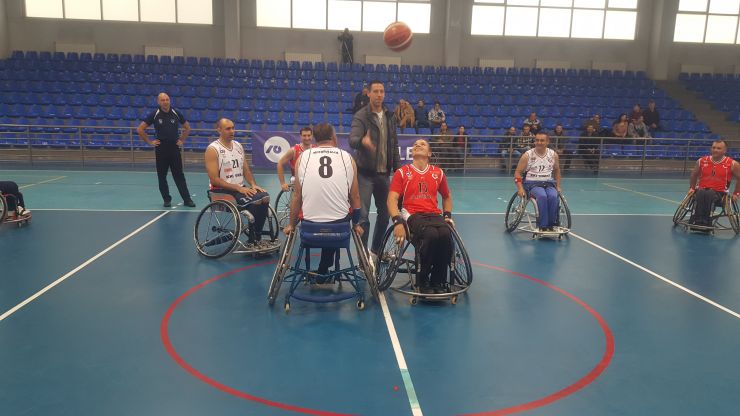 The Round 2 in Group A of Basketball Wheelchair Regional League took place in Bihać and it is KIK Una Sana that remain undefeated after having played four games this season.
In the Basketball Wheelchair Regional League, that is supported by the ABA League and its clubs, the second round games of Group A took place in Bihać.
KIK Una Sana and KIK Zmaj were the ones that celebrated new victories this time around and they have both celebrated twice against KKI Zagreb and KKK Singidunum.
KIK Una Sana is the only undefeated team in the group so far this season.
A day before, the competition took place in Banja Luka in Group B.
Basketball Wheelchair Regional League Regular Season, Round 2, Group A, 27.11.2016:
KIK UNA SANA - KKI Zagreb 81:56 (19:9, 19:16, 21:16, 23:15 )
KIK ZMAJ - KKK Singidunum 81:27 (15:9, 27:8, 20:4, 19:6)
KKI Zagreb - KIK ZMAJ 66:78 (17:16, 20:16, 21:27, 8:19)
KIK UNA SANA - KKK Singidunum 63:48 (15:16, 17:12, 11:8, 20:12)
STANDINGS:
| | | | |
| --- | --- | --- | --- |
| Team | W | L | P |
| KIK Una Sana | 4 | 4 | 8 |
| KIK Zmaj | 3 | 1 | 7 |
| KKK Singidunum | 1 | 3 | 5 |
| KKI Zagreb | 0 | 4 | 4 |
Group B, 26.11.2016:
KKI VRBAS - Slovenija 79:51 (17:10, 15:17, 24:13, 22:11)
CASTELVECCHIO - RSV Karnten 76:34 (26:10, 24:10, 16:6, 10:8)
Slovenija - CASTELVECCHIO 45:74 (8:14, 19:15, 8:28, 10:17)
KKI VRBAS - RSV Karnten 60:38 (18:10, 14:11, 18:9, 10:8)
STANDINGS:
| | | | |
| --- | --- | --- | --- |
| Team | W | L | P |
| Casteleveccchio | 4 | 4 | 8 |
| KKI Vrbas | 3 | 1 | 7 |
| RSV Karnten | 1 | 3 | 5 |
| Slovenija | 0 | 4 | 4 |