Zadar and Mega Bemax have the same goal – to escape the relegation zone
Saturday, 04. January 2020 at 14:17
These two teams are currently then two last placed teams on the standings… That is why the upcoming match is so important for each side.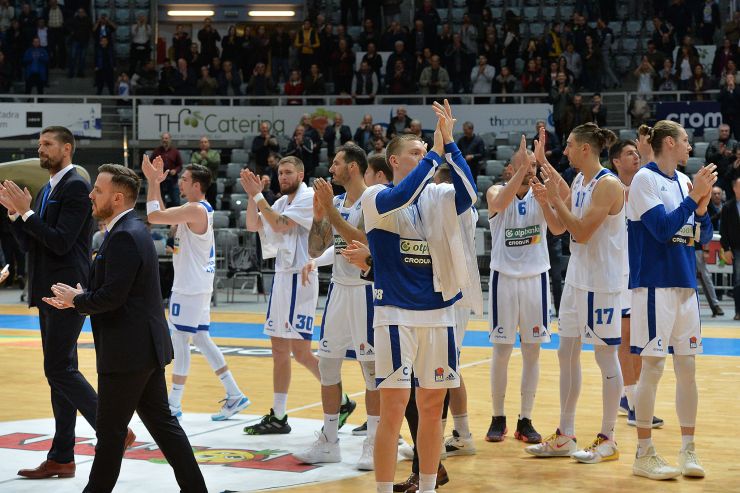 Zadar team (Photo: Zadar/Zvonko Kucelin)
ABA League Round 14, Sunday, 5.1.2020:
Where? Krešimir Ćosić Hall, Zadar
Where? 18:00
Story of the game: There are three teams with the overall score of 3-10 and those three teams are currently placed at the bottom of the ABA League table. Those are Igokea, Zadar and Mega Bemax. And two of them will face each other this Sunday evening!
Zadar are about to host Mega Bemax in Round 14 of the 2019/20 ABA League regular season and it is quite clear how much this game is important to each side.
Zadar will have a home court advantage, which is quite significant when this team is concerned. We will just remind you that Zadar have scored all of their three wins so far in the season in Krešimir Ćosić Hall, while they have defeated no other but Cedevita Olimpija, Crvena zvezda mts and Budućnost VOLI... The three title contenders!
On the other side, Mega Bemax have scored just 1 away win so far in the season, but they have lately made some major changes in the roster and they are now looking much better on the court. It is also worth mentioning that Mega Bemax scored quite a convincing win against Zadar in the first part of the season – 98:74.
Each side wants to escape the relegation zone and the only way to do it is to win the upcoming match.
Match-up in focus: Last season Dominik Mavra helped Krka to keep their ABA League status by playing simply brilliantly in the most important games. That is why Zadar's fans hope that Mavra can once again step up when his team needs him the most. Mega Bemax will put their hopes in newcomer Kendrick Perry who brought a lot of energy to the team with his arrival. Perry has played two games for Mega Bemax so far in the season. In the first one he scored 27 points, while in the second one he made 18 points.
Head to head in the regional league: In total 5:8; In Zadar 3:3.