Zvezda beat Igokea in front of packed stands in Laktaši
Monday, 27. January 2020 at 16:59
Crvena zvezda mts have moved up to the 3rd place on the 2019/20 ABA League standings after beating Igokea on the road.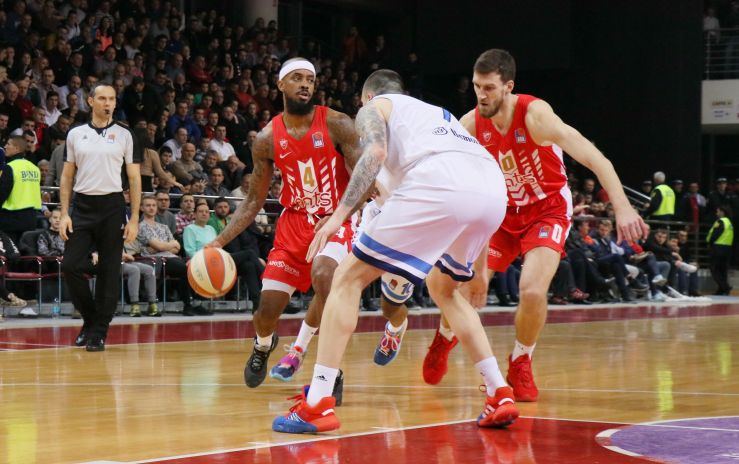 Lorenzo Brown (Photo: Igokea/Nikola Vuruna)
ABA League Round 17, Monday, 27.1.2020:
Igokea - CRVENA ZVEZDA MTS 79:94 (17:22, 20:26, 17:21, 25:25)
Game recap: Crvena zvezda mts have stayed on the winning path in the ABA League as they defeated Igokea on the road in the last match of Round 17. The red & whites have therefore moved up to the 3rd place on the standings, while Igokea remained at the 8th place.
Crvena zvezda mts have had a double-digit lead throughout most of the game, while their big guys have been dominating the paint from the start to the end of the match. Zvezda had 18 rebounds more than Igokea in today's match and the visitors scored a well-deserved win at the end.
Key moments: Perhaps the key moment in this match happened in the final minutes of the 3rd quarter when Igokea's starting center Đorđe Gagić made his 5th foul and had to leave the game. Without Gagić on court, Igokea could not stop Zvezda's centers in the rest of the match.
Man of the match: Lorenzo Brown and James Gist deserve to share this award as both of them had the overall index rating of 20. Brown finished the match with 14 points, 10 assists and 6 rebounds, while Gist had 17 points, 5 rebounds and 2 assists.
Can't trick the stats: We have already mentioned the difference in rebounds, while we will also add that Zvezda made 7 blocks in today's match. On the other side Igokea had just 1.