Jure Škifić signs with Krka
Tuesday, 04. August 2020 at 11:13
The club from Novo mesto has added another new player to their 2020/21 team roster.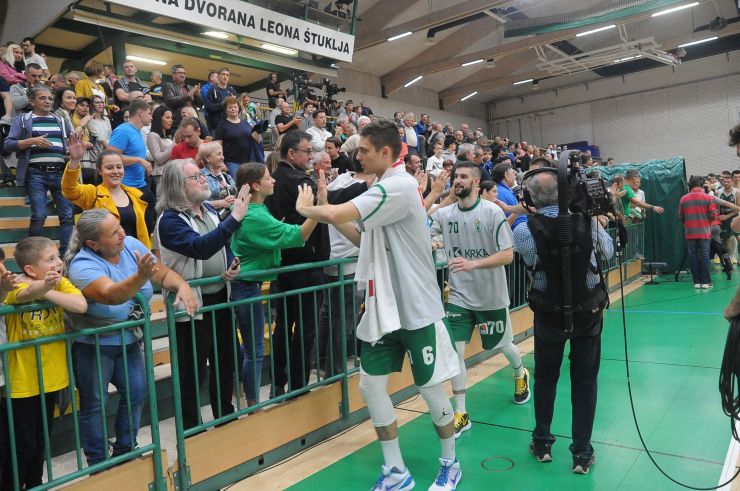 Krka team (Photo: Krka/Drago Perko/kosarka.si)
Krka have completed another transfer! The club from Novo mesto announced that it has signed a contract with 32-year old power forward Jure Škifić.
Škifić spent the previous season in French team Saint-Chamond, while he averaged 11.7 points, 4.9 rebounds and 1.7 assists per match in the 2019/20 French Pro B championship.
Škifić has therefore returned to ABA League where he had already played two times. He was part of Zadar team in the 2009/10 season, while he then played for Zlatorog Laško in the 2011/12 regional championship.
"This is a new challenge for me. I am very happy to be part of such a well-organized club, which has a great coach. I want our fans to support us throughout the whole season," said Jure Škifić.
Krka have so far signed contracts with 7 new players this summer, including - Nejc Barič (Koper Primorska), Jan Kosi (Koper Primorska), Jan Rebec (Šentjur), Jairus Lyles (Löwen Braunschweig), Adin Vrabac (Spars Realway), Rod Camphor (Rosa Radom) and Jure Škifić (Saint-Chamond).
---------------------
Jure Škifić okrepil Krko
Dres Krke bo v novi sezoni oblekel tudi hrvaški košarkar Jure Škifić.
Hrvaški igralec Jure Škifić (1988) je prve košarkarske korake naredil v Zadru, odkoder je šel za tri sezone v Dubrovnik, kjer se je kalil in razvijal pod taktirko trenerja Darka Kunceta. Tedanji trener Zadra Zmago Sagadin ga je vrnil v Zadar, kjer je ostal eno sezono (2009/10). Od tu ga je pot vodila k mestnemu tekmecu Boriku, od tu pa prvič na tuje, točneje v Slovenijo, kjer je bil leto dni član Zlatoroga Laško. Po dveh sezonah na Reki je sledil nov odhod na tuje – sprva v Rusijo (Novosibirsk), potem pa na Poljsko (Polski Cukier Torun in Stal Ostrow) in Ciper (AEK Larnaca) ter v Francijo (Saint-Chamond). V lanski sezoni je v francoski ligi Pro B na tekmo beležil po 11.7 točke, 4.9 skoka in 1.7 podaje.
Jure Škifić je ob dogovoru z novomeščani povedal: "Prihod v Krko je zame nov izziv! Zelo sem vesel, da prihajam v urejen klub z odličnim trenerjem. Želim si, da bi bili naši navijači z nami v dobrem in slabem."