Rok Stipčević reinforced Krka
Thursday, 20. August 2020 at 16:00
Krka have reinforced their ranks with a big signing. Point guard Rok Stipčević is coming to Dolenjska.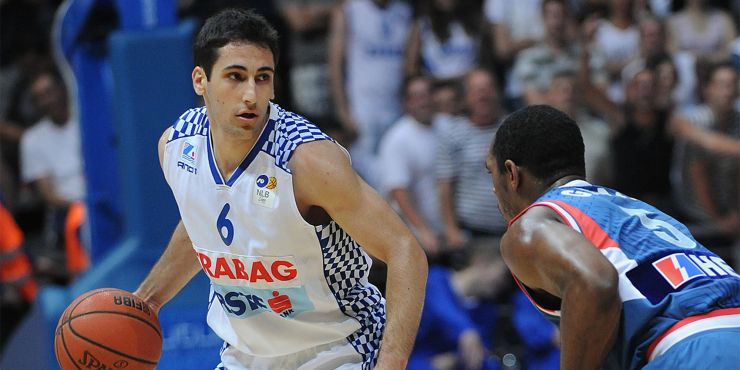 Rok Stipcevic (Photo: Zadar/Zvonko Kucelin)
Rok Stipčević, a Maribor-born player, has started playing basketball in Zadar and has been playing also at Borik Puntamika as a youngster. Between 2006 and 2010 he returned to Zadar and afterwards moved to Cibona and abroad. First he used to play in Italy (Varese, Milano, Pesaro) and afterwards in Turkey (Tofas). He then moved to Italy to play for Virtus Roma and Dinamo Sassari. He also has been a member of Rytas Vilnius. Last season he played for Fortitudo of Bologna.
In the 2017/18 season he has been averaging 8.3 points, 4.5 assists and 2.1 rebounds per game in the Italian national championship. In his career, he has spent three seasons in EuroLeague and eight seasons in EuroCup.
Rok Stipčević will fill the void in Krka's team, that has appeared over the past couple of days. American guard Jairus Lyles did not arrive to Novo mesto due to personal reasons.
As he signed with Krka, Rok Stipčević told: "There are many reasons for my decision to come to Novo mesto, where I became the new Krka player. First, there is a desire by head coach Vladimir Anzulović, who wanted me to come. I should also point out the professionalism and correctness, demonstrated by Krka, as they have contacted me. Krka has great reputation in the world of basketball and the players have good experience with this team. At last, I will be playing in the country where I was born and I am close to Croatia, where I live. I have arrived to Novo mesto fully motivated, since it's the right environment for me."
---------------------
Rok Stipčević okrepil Krko
Krka iz Novega mesta je svoje vrste okrepila z odmevnim novincem. Na Dolenjsko prihaja organizator igre Rok Stipčević.
Rok Stipčević (185 cm, 1984) je rojen v Mariboru. S košarko je začel v Zadru, vmes pa se je kalil v Boriku Puntamiki. Med letoma 2006 in 2010 je vnovič igral za Zadar, od tu se je selil v Cibono, potem pa prvič v tujino. Najprej je igral v Italiji (Varese, Milano, Pesaro), potem v Turčiji (Tofas). Sledila je vrnitev v Italijo (Virtus Roma in Dinamo Sassari). Bil je tudi član litovskega kluba Rytas Vilnius. V lanski sezoni je igral v dresu italijanskega Fortituda Bologne.
V sezoni 2017/2018 je v dresu Sassarija v italijanski ligi beležil po 8.3 točke, 4.5 podaje in 2.1 skoka. V svoji karieri je v treh sezonah igral v Evroligi, osem sezon pa v pokalu EuroCup.
Rok Stipčević bo v ekipi Krke zapolnil vrzel, ki je nastala v minulih dneh. Ameriški branilec Jairus Lyles zaradi družinskih razlogov ni pripotoval v Novo mesto.
Rok Stipčević je ob podpisu za Krko povedal: "Veliko razlogov je za to, da sem se odločil za prihod v Novo mesto, kjer sem postal novi član Krke. V prvi vrsti je tu želja trenerja Vladimirja Anzulovića, ki je želel, da pridem. Tu velja izpostaviti tudi profesionalnost in korektnost, ki jo je pokazal Krka, ko so stopili v stik z menoj. Krka v košarkarskih krogih uživa velik ugled, košarkarji pa imajo s tem klubom dobre izkušnje. Nenazadnje pa igram v državi, kjer sem rojen, pa še blizu sem Hrvaški, kjer živim. Motiviran in željan dokazovanja sem prišel v Novo mesto, ki je prava sredina."