Mega Mozzart appoint Marko Barać as new head coach
Monday, 20. June 2022 at 14:10
After parting ways with Vladimir Jovanović, Mega Mozzart have reacted quickly and they have appointed Marko Barać as new head coach.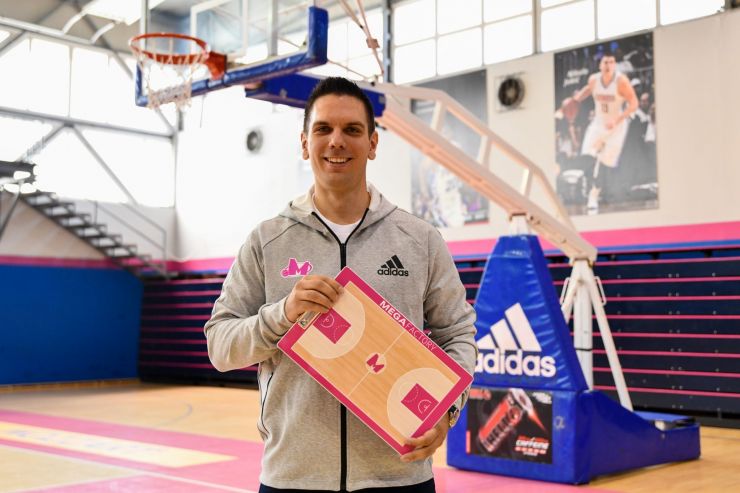 Marko Barac (Photo: Mega Mozzart/Dragana Stjepanovic)
After parting ways with Vladimir Jovanović, Mega Mozzart have reacted quickly and they have appointed Marko Barać as new head coach.
Barać is a well-known face for AdmiralBet ABA Feague fans as he spent the previous three years as assistant coach in Igokea m:tel. During that period Barać also acted as Igokea m:tel head coach in some games when Dragan Bajić was absent.
"Mega Mozzart is a well-organized club who had some great coaches over the years. Therefore, I want to thank the club management for the trust they put in me and to add that I will give my best to keep up with good work that my precessors have started. Mega Mozzart has positioned itself as the number one club for producing top-class young players, while aiming for the best team results at the same time. All of that perfectly suits me as a coach in this moment of my career and I look forward to starting the preparations for the next season," said Mega Mozzart new head coach Marko Barać.
"On behalf of Mega Mozzart and on my own behalf I want to wish a warm welcome to our new head coach Marko Barać. Our plans, ambitions and our system of work match perfectly, so I am convinced that we will have a great cooperation. For its part, as always, the club will do its best to provide maximum conditions for the work and progress of young players, so that together we can continue to grow on our recognizable path," said Mega Mozzart General Manager Goran Ćakić.
Marko Barać started his coaching career in 2009 as an assistant coach in youth selections of Superfund and later on in Crvena zvezda mts. In 2013 he became the head coach of Italian team Ortona, while after that he took over the role of assistant coach in Polish side Czarni Slupsk. From 2016 to 2018 Barać was the head coach of BC Torlak, while in the following season he was the head coach of Mladost MaxBet. In the previous three years he was an assistant coach in Igokea m:tel.
--------------------------------
Marko Barać novi trener Mege
Kao što je bilo i najavljeno na pres konferenciji posle majstorice sa Crvenom zvezdom, Mega će u narednoj sezoni imati novog trenera, a danas je Marko Barać potpisao dvogodišnji ugovor sa klubom gde će na trenerskoj klupi posle dve godine naslediti Vladimira Jovanovića.
Baraću će u stručnom štabu pored Đorđa Ilića, pomagati i Tomislav Tomović koji je u Megu došao iz redova kineskog Šandonga, umesto Vuleta Avdalovića koji je prošle nedelje promovisan u novog trenera OKK Beograda.
Po potpisivanju ugovora sa Megom, novi šef stručnog štaba kluba je istakao da s nestrpljenjem očekuje početak priprema za novu sezonu:
– Mega je klub koji je sa aspekta struke i organizaciono bio jako dobro pokriven svih ovih godina. Stoga se zahvaljujem na ukazanom poverenju i daću sve od sebe da se taj trend nastavi. Mega se pozicionirala kao vodeći klub po produkciji igrača za najviši nivo košarke, pri tome ciljajući dobar takmičarski rezultat. Sve to je nešto što meni kao treneru u ovom momentu karijere savršeno odgovara i tu su nam se ambicije poklopile u potpunosti. S nestrpljenjem očekujem početak priprema na novu sezonu, izjavio je Barać.
Generalni menadžer Mega Mozzarta Goran Ćakić je poželeo dobrodošlicu novom treneru:
– U ime Mege i u svoje lično ime poželeo bih srdačnu dobrodošlicu našem novom šefu stručnog štaba Marku Baraću. Sistem rada, planovi i ambicije nam se poklapaju i uveren sam da ćemo imati uspešnu saradnju, na obostrano zadovoljstvo. Klub će se sa svoje strane, kao i uvek do sada, potruditi da obezbedi maksimalne uslove za rad i napredak mladih igrača, kako bi svi zajedno nastavili da rastemo na našem prepoznatljivom putu, izjavio je Ćakić.
Novi trener Mega Mozzarta Marko Barać je rođen 18. marta 1989. godine u Beogradu. Trenerskom karijerom je počeo da se bavi 2009. godine kao pomoćni trener u mlađim selekcijama Superfunda a potom i Crvene zvezde, da bi potom 2013. godine postao glavni trener italijanske ekipe Ortona, posle koje je bio pomoćni trener u poljskom timu Čarni Slupsk. Od decembra 2016. godine do juna 2018. je bio glavni trener Torlaka, a potom jednu sezonu i trener Mladosti Zemun, dok je prethodne tri godine bio pomoćni trener Igokee. U prethodnom periodu je u više navrata bio pomoćni trener mlađih nacionalnih selekcija Srbije sa kojima je osvojio bronzu na U18 Evropskom prvenstvu 2012. godine, srebro na U19 Svetskom kupu 2013. godine i bronzu na U20 Evrobasketu 2014. godine.