Amar Alibegović from Bologna to Ljubljana
Wednesday, 06. July 2022 at 11:07
Cedevita Olimpija has strengthened its ranks with a new talented basketball player from the AdmiralBet ABA League region. The Dragons jersey will be worn by Amar Alibegović for the next two seasons. The latter has spent his entire professional career in Italy, and last season he was part of Virtus Segafredo Bologna, which won the EuroCup championship title.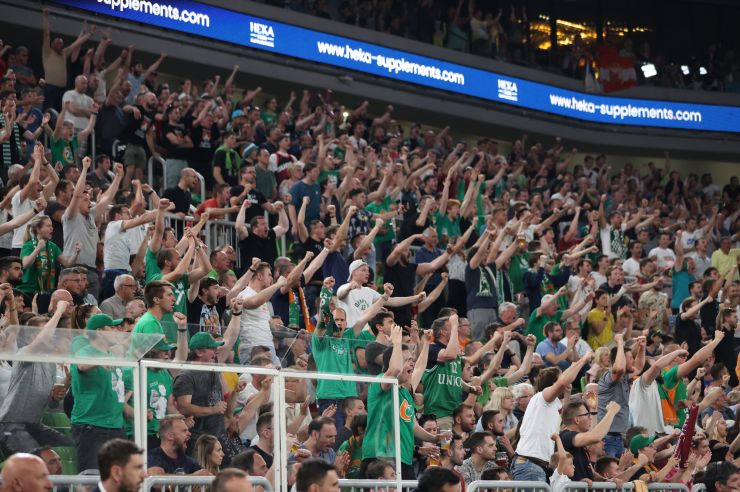 Cedevita Olimpija fans (Photo: Cedevita Olimpija/Ales Fevzer)
Before the start of the 2022/23 competition season, 26-year-old talented Amar Alibegović, the son of the best scorer of the Slovenian men's national team of all times, Teoman Alibegović, is moving to Ljubljana from the Italian side of Virtus Segafredo Bologna. Amar was born in the United States and spent his basketball childhood in Italy, where he played professionally for the last four seasons, and in the last two he competed with Virtus in the EuroCup.
"I am very happy to join the big club with a rich history. I can't wait to arrive in Ljubljana, and that teammates and I start with the practices, and get as much wins as possible in all competitions next season," said Amar Alibegović upon joining Cedevita Olimpija.
After spending virtually his entire youth in Italy, where he grew up playing basketball in Rome's Stella Azzurra, Amar Alibegović was educated in New York between 2014 and 2018 and was part of the St. John's University team. In 2018, Alibegović signed a contract with the Virtus Roma and won the promotion from the second to the first Italian league with the Italian team in the first season. In 2020, Alibegović moved to Virtus Segafredo Bologna, where he remained until the end of the previous season.
With Bologna, Alibegović won the title of Italian National Champion and the title of Italian Super Cup winner in 2021, and in the 2021/22 season, Virtus Bologna became the EuroCup champion. In the EuroCup, he appeared in 18 matches, eight of which he started in the starting five of Virtus. He averaged 5.3 points, 2.4 rebounds and 0.6 assists. He played in 26 games in the Italian national championship, scoring 8.5 points and 4.0 rebounds per game.
Alibegović was part of the Bosnia and Herzegovina U20 National Team, and from 2019 onwards he is also part of the senior national team, for which he played in the qualifiers for the World Championships in 2019 and 2023 and in the qualifiers for EuroBasket 2022.
--------------------
Amar Alibegović is Bologne v Ljubljano
Cedevita Olimpija je svoje vrste okrepila z novim nadarjenim košarkarjem s področja nekdanje Jugoslavije. Dres Zmajev bo v prihodnjih dveh sezonah nosil Amar Alibegović, ki je vso svojo profesionalno kariero preživel v Italiji, v minuli sezoni pa je bil del ekipe Virtusa iz Bologne, ki je osvojila naslov prvaka 7DAYS EuroCupa.
V Ljubljano se pred začetkom tekmovalne sezone 2022/23 iz italijanskega Virtusa Segafredo Bologne seli 26-letni nadarjeni Amar Alibegović, sin najboljšega strelca slovenske moške članske reprezentance, Teomana Alibegovića. Amar je bil rojen v Združenih državah Amerike, svojo košarkarsko otroštvo pa je preživel v sosednji Italiji, kjer je profesionalno igral zadnje štiri sezone, v zadnjih dveh pa je z Virtusom tudi nastopal v 7DAYS EuroCupu. V Ljubljani bo ostal vsaj do zaključka sezone 2023/24.
"Izredno srečen sem, da sem se pridružil tako velikemu klubu z bogato zgodovino. Komaj čakam, da pridem v Ljubljano, in da s soigralci začnemo s treningi ter da v vseh tekmovanjih zabeležimo čim več zmag," je ob pridružitvi Cedeviti Olimpiji povedal Amar Alibegović.
Po tem, ko je praktično svojo celotno mladost preživel v Italiji, kjer je košarkarsko odraščal v rimski Stelli Azzurri, se je Amar Alibegović med letoma 2014 in 2018 šolal v New Yorku in bil del univerzitetne ekipe St. John's. Leta 2018 je Alibegović podpisal pogodbo z ekipo Virtus Roma in z italijanskim kolektivom že v prvi sezoni napredoval iz druge v prvo italijansko ligo. Leta 2020 je Alibegović prestopil v Virtus Segafredo Bologno, kjer je ostal vse do zaključka sezone, ki je za nami.
Z Bolognčani je Alibegović leta 2021 osvojil naslov italijanskega državnega prvaka ter naslov italijanskega superpokalnega prvaka, v sezoni 2021/22 pa je Virtus Bologna postal prvak Evropskega pokala. V 7DAYS EuroCupu je zaigral na 18 tekmah, od tega jih je osem začel v udarni peterki Virtusa. V povprečju je dosegal 5,3 točke, 2,4 skoke in 0,6 asistence. V italijanskem državnem prvenstvu je zaigral na 26 tekmah, beležil pa je 8,5 točke in 4,0 skoke na tekmo.
Alibegović je bil del reprezentance Bosne in Hercegovine do 20. leta, od leta 2019 dalje pa je tudi del članske reprezentance, za katero je zaigral v kvalifikacij za svetovni prvenstvi leta 2019 in 2023 ter v kvalifikacijah za EuroBasket 2022.