Karlo Matković joins Cedevita Olimpija
Saturday, 23. July 2022 at 10:43
Talented center Karlo Matković will join the team of Cedevita Olimpija in the forthcoming season. He signed a professional contract with former Cedevita Zagreb in April 2019, and then wore the jersey of the Serbian OKK Belgrade and Mega MIS on loan.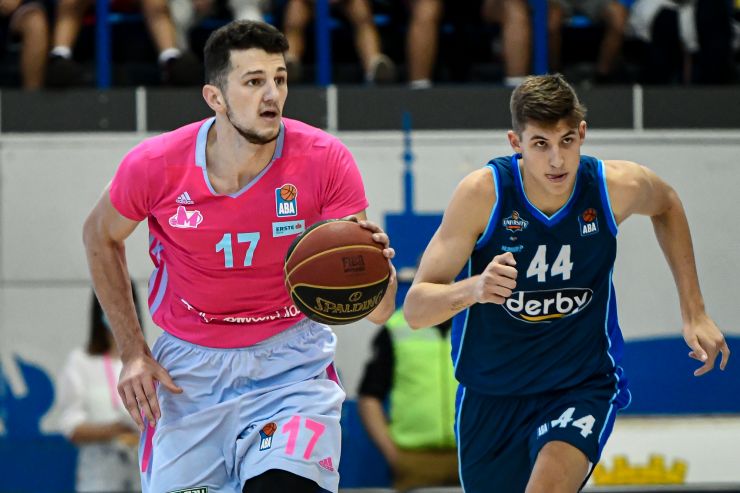 Karlo Matkovic (Photo: Mega Basket/Dragana Stjepanovic)
In the forthcoming season we will be watching anotther talented player at Cedevita Olimpija. Karlo Matković, 208 cm tall center, who has already worn the jersey of Zagreb's Cedevita in the past, will move to the Dragons' Lair for the first time, as from 2019 onwards he was on loan to OKK Beograd and Mega MIS. Now, for the first time since the merger of Cedevita and Olimpija in 2019, Matković will defend the colors of Cedevita Olimpija.
"I am very happy to be a part of Cedevita Olimpija in the coming season. I can't wait to get to Ljubljana, to meet my new teammates, to start preparations and for the new season to begin. I invite the fans to join us at our home games and to support us," said Karlo Matković upon announcing that he will be part of Cedevita Olimpija in the new season.
Karlo Matković made his first professional basketball steps in the 2018/19 season in the jersey of the then Cedevita, and in April 2019 he also signed his first professional contract. In September 2019, after the foundation of Cedevita Olimpija, he was loaned to Belgrade's OKK Beograd, where he spent one season and competed in the Serbian national championship. Before the start of the 2020/21 season, he was then loaned to Mega MIS, where he developed and spent the last two seasons.
In the 2021/22 season, Matković played for Mega MIS in 25 regular season matches of the regional league. On average, he spent 21.4 minutes per game on the floor, scoring 11.6 points, 6.1 rebounds and 1.1 assists per game, while also awarding 1.1 blocks per game. His outstanding performances were also the reason he was selected by the New Orleans Pelicans as the 52nd overall pick at the NBA Draft in June, and he also played for the Pelicans in the Summer League of the strongest basketball competition in the world this summer.
In 2017, Matković participated in the elite Jordan Brand Classic camp, and a year later he also participated in the European Basketball Without Borders camp in Belgrade.
After defending the colors of Bosnia and Herzegovina at the U18 European Championship in 2018, in November 2021 Matković expressed his desire to represent Croatia at the international level in the senior basketball competition. He made his debut in the jersey of the Croatian National Team in the qualifications for the 2023 World Cup, and so far he has played for Croatia in two games, averaging 8.0 points and 7.0 rebounds per game.
--------------------
Karlo Matković se bo v novi sezoni pridružil Zmajem
Članski ekipi Cedevite Olimpije se bo v prihajajoči sezoni pridružil nadarjeni center Karlo Matković. Slednji je aprila 2019 podpisal profesionalno pogodbo s takratno zagrebško Cedevito, nato pa kot posojeni košarkar nosil dres srbskih OKK Beograd in Mege MIS.
V dresu Cedevite Olimpije bomo lahko v tekmovalni sezoni 2022/23 spremljali še enega nadarjenega košarkarja. V Zmajevo gnezdo se bo namreč preselil 208 centimetrov visoki Karlo Matković, ki je v svoji karieri že nosil dres zagrebške Cedevite, od leta 2019 dalje pa se je kot posojeni košarkar mudil v OKK Beograd in Megi MIS. Zdaj bo Matković, ki je svojo prvo profesionalno pogodbo podpisal prav s takratno zagrebško Cedevito, pred časom pa je podaljšal pogodbo s Cedevito Olimpijo, prvič, odkar je leta 2019 prišlo do združitve Cedevite in Olimpije, branil barve ljubljanskega kolektiva.
"Zelo srečen sem, da bom v prihajajoči sezoni del Cedevite Olimpije. Komaj čakam, da pridem v Ljubljano, da spoznam nove soigralce, da začnemo s pripravami, in da se začne nova sezona. Že zdaj pa vabim navijače, da se nam v čim večjem številu pridružijo na naših domačih tekmah, in da nas podpirajo," je ob naznanitvi, da bo v novi sezoni del Cedevite Olimpije, povedal Karlo Matković.
Karlo Matković je svoje prve profesionalne košarkarske korake napravil v sezoni 2018/19 v dresu takratne zagrebške Cedevite, aprila leta 2019 pa je tudi podpisal svojo prvo profesionalno pogodbo. Septembra 2019, po nastanku Cedevite Olimpije, je bil posojen v beograjski OKK Beograd, kjer je preživel eno sezono in nastopal v srbskem državnem prvenstvu. Pred začetkom sezone 2020/21 je bil nato posojen v Mego MIS, kjer se je razvijal in igral zadnji dve sezoni.
V sezoni 2021/22 je Matković za Mego MIS zaigral na 25 tekmah rednega dela regionalne lige. V povprečju je na parketu preživel 21,4 minute na tekmo, dosegal pa 11,6 točke, 6,1 skok in 1,1 asistenco na dvoboj, ob tem pa podelil še 1,1 blokado na tekmo. Njegove izjemne predstave so bile tudi razlog, da je bil v juniju na naboru Lige NBA kot 52. po vrsti izbran s strani New Orleans Pelicans, za katere je v tem poletju zaigral tudi na poletni ligi najmočnejšega košarkarskega tekmovanja na svetu.
Matković je leta 2017 sodeloval na elitnem Jordan Brand Classic kampu, leto kasneje pa je sodeloval še na evropskem kampu Košarke brez meja v Beogradu.
Po tem, ko je v letu 2018 na evropskem prvenstvu za fante do 18. leta branil barve Bosne in Hercegovine, je v novembru 2021 Matković izrazil željo, da na mednarodni ravni v članski kategoriji zastopa Hrvaško. Svoj debi v dresu hrvaške moške članske reprezentance je doživel v kvalifikacijah za svetovno prvenstvo leta 2023, zaenkrat pa je za Hrvaško zaigral na dveh tekmah, v povprečju pa dosega 8,0 točk in 7,0 skokov na tekmo.