Aaron Harrison is coming to Ljubljana
Thursday, 15. September 2022 at 13:40
After the injury of one of Cedevita Olimpija's main players, Zoran Dragić, the management of the Ljubljana team rolled up their sleeves. American basketball player Aaron Harrison, who wore the jersey of Turkish Turk Telekom last season, is coming to Ljubljana.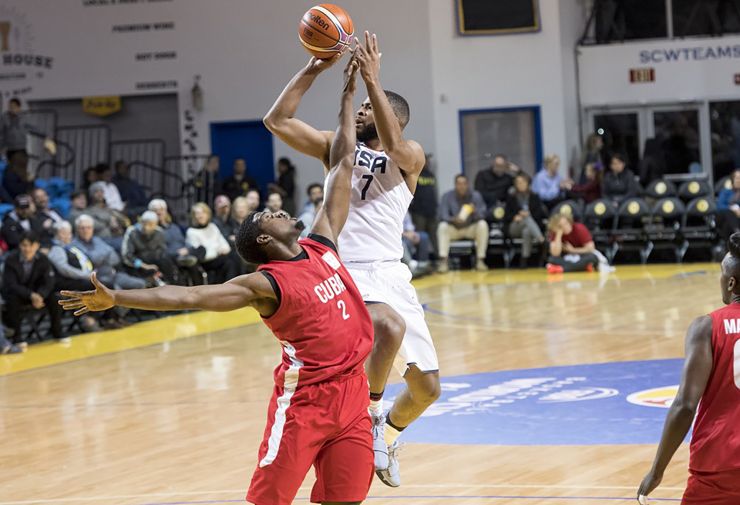 (Photo: FIBA)
After Zoran Dragić's injury, which will keep the popular "Zoki" away from the floor for six to eight weeks, American basketball player Aaron Harrison, who played for Turk Telekom in the 2022/23 season, but ended the season early due to a knee injury, is coming to Ljubljana.
"I am delighted to be joining the team and get to know the guys. Cedevita Olimpija is a club, worth of every respect, so I am thrilled and grateful for the chance that it has offered me," Harrison told as he joined the Dragons and added: "I will do my best to help my team win."
Harrison has experience of playing in the NBA, Euroleague and EuroCup. In the 2020/21 season, he appeared in 27 Euroleague matches for the Greek Olympiacos, eight of which he started in the starting five of the Greek powerhouse. He averaged 6.5 points, 1.8 rebounds and 1.1 assists per contest. He made 37 career NBA appearances, including two in the Playoffs. Between 2015 and 2017, he wore the Charlotte Hornets jersey in 26 games of the regular season, and in the 2017/18 season he played nine times for the Dallas Mavericks.
His sports path then led him to the Turkish side Galatasaray, where he stayed for two seasons, and in the 2019/20 season he scored 15.9 points, 2.9 rebounds and 2.8 assists per game in the EuroCup. A move to Olympiacos followed, and he returned to Turkey before the 2021/22 season.
Harrison comes to Cedevita Olimpija after spending the 2021/22 season in the Turkish team Turk Telekom, which was eliminated from the fight for the top spots in the 7DAYS EuroCup by the Ljubljana club. He appeared in seven games in the EuroCup and averaged 16 points, 2.1 rebounds and 1.4 assists per game. Harrison ended the season early due to injury.
--------------------
Aaron Harrison bo oblekel dres Cedevita Olimpije
Po poškodbi enega od nosilcev igre Cedevite Olimpije Zorana Dragića, so vodilni v ljubljanskem kolektivu zavihali svoje rokave. V Ljubljano tako prihaja ameriški košarkar Aaron Harrison, ki je v minuli sezoni nosil dres turškega Turk Telekoma.
Vodilni pri Cedeviti Olimpiji so skupaj s člani strokovnega štaba Zmajev po poškodbi Zorana Dragića, ki bo priljubljenega 'Zokija' s parketov oddaljila od šest do osem tednov, zavihali rokave, in našli košarkarja, ki se bo v tem časovnem obdobju pridružil ekipi aktualnih slovenskih državnih, pokalnih in superpokalnih prvakov. V Ljubljano prihaja ameriški košarkar Aaron Harrison, ki je v sezoni 2022/23 nastopal za Turk Telekom, sezono pa zaradi poškodbe kolena sklenil predčasno.
"Navdušen sem nad tem, da se bom pridružil ekipi, in spoznal fante. Cedevita Olimpija je klub, vreden spoštovanja, zato sem navdušen in hvaležen za ponujeno priložnost," je ob pridružitvi Zmajem povedal Harrison in dodal: "Dal bom vse od sebe, da ekipi pomagam do zmag."
Harrison ima izkušnje z igranjem v Ligi NBA, Evroligi in 7DAYS EuroCupu. V sezoni 2020/21 je za grški Olympiacos nastopil na 27 evroligaških tekmah, od tega jih je osem začel v udarni peterki grškega velikana. V povprečju je dosegal 6,5 točke, 1,8 skoke in 1,1 asistence na obračun. V svoji karieri je zbral 37 nastopov v Ligi NBA, od tega dva v končnici tekmovanja. Med letoma 2015 in 2017 je dres Charlotte Hornets nosil na 26 tekmah rednega dela sezone, v sezoni 2017/18 pa je devetkrat zaigral za Dallas Mavericks.
Športna pot ga je nato vodila v turški Galatasaray, kjer je ostal dve sezoni, v sezoni 2019/20 pa v 7DAYS EuroCupu dosegal 15,9 točke, 2,9 skoke in 2,8 asistence na tekmo. Sledila je selitev v Olympiacos, pred sezono 2021/22 pa se je vrnil v Turčijo.
V Cedevito Olimpijo Harrison prihaja po tem, ko je sezono 2021/22 preživel v turški ekipi Turk Telekom, ki jo je iz boja za najvišja mesta v 7DAYS EuroCupu izločil prav ljubljanski klub. V 7DAYS EuroCupu je zaigral na sedmih tekmah in v povprečju beležil 16 točk, 2,1 skok in 1,4 asistence na tekmo. Harrison je sezono predčasno zaključil zaradi poškodbe.