Gregor Glas is the new Mornar-Barsko zlato reinforcement
Thursday, 05. January 2023 at 16:14
Young and talented Gregor Glas is the new member of Mornar-Barsko zlato, after he moved from Partizan Mozzart Bet to Cedevita Olimpija, which sent him on a loan to the Bar team.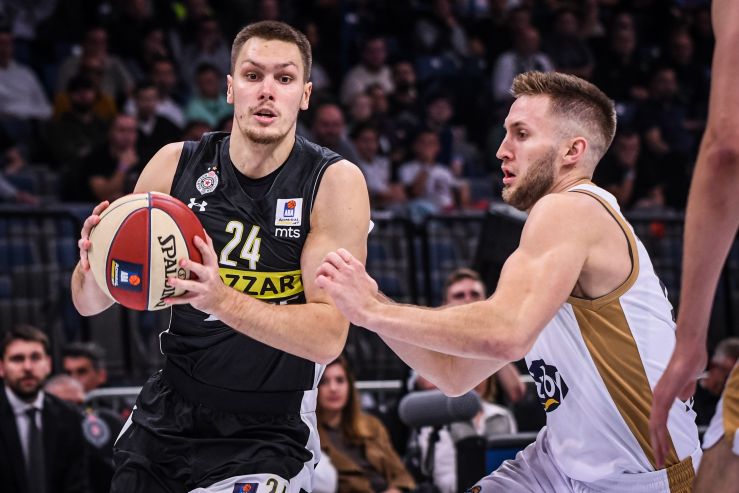 Gregor Glas (Photo: Partizan Mozzart Bet/Dragana Stjepanovic)
Youngster Gregor Glas is moving from Partizan Mozzart Bet to Mornar-Barsko zlato. Talented Glas is considered to be one of the best young Slovenian players, that made his first basketball footsteps in Slovenia, and afterwards moved to Serbia. At last, he played in Serbia for Partizan Mozzart Bet in AdmiralBet ABA League.
In his professional career young Glas used to play for Koper Primorska, Dynamic Balgrade and Partizan Mozzart Bet at last, where he has drawn attention of the basketball public in the region. However, this season head coach Željko Obradović announced that he is not counting on the youngster.
This season, Gregor Glas appeared in four AdmiralBet ABA League games, averaging 5 minutes and 1.8 points per game. With his arrival, Mornar-Barsko zlato will reinforce three most critical positions within team.
--------------------
Gregor glas novo je pojačanje Mornara-Barsko zlato
Gregor Glas je potpisao ugovor sa Cedevita Olimpijom da bi onda bio proslijeđen u Bar do kraja sezone.
Gregor je pažnju na sebe skrenuo prošle sezone nastupajući za Partizan, ali kako je sezona odmicala Glas je imao sve manju minutažu da bi ove sezone Željko Obradović saopštio da ne računa na njega.
Dolaskom Glasa Mornar će ojačati pozicije tri i četiri koje su, trenutno, najkritičnije u timu Mihaila Pavićevića.