Emil Rajković resigns, MZT part ways with Thomas and Massey
Monday, 10. October 2016 at 00:59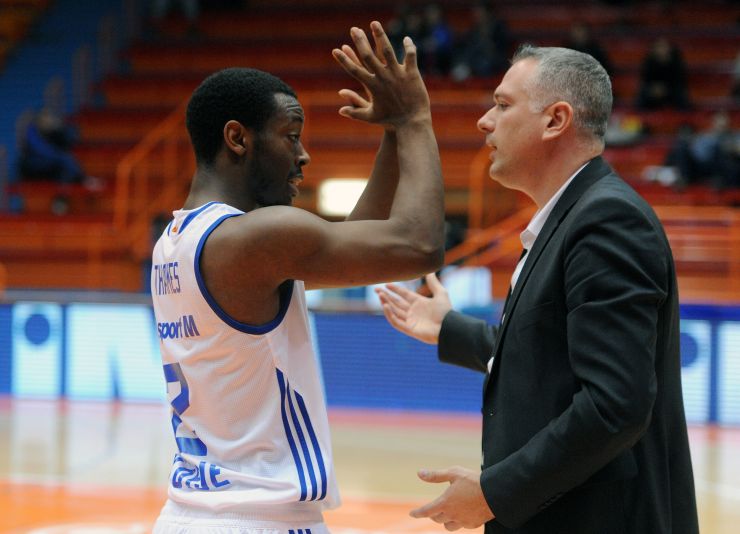 Xavier Thames, Emil Rajkovic (Photo: Cedevita/Marin Susic)
Big changes in MZT Skopje Aerodrom after the team suffered their 4th consecutive defeat in the 2016/17 ABA League season.
Emil Rajković resigned from the position of MZT Skopje Aerodrom head coach and he will not lead the team in the rest of the season. He felt responsible for the terrible start of the new ABA League campaign, as MZT Skopje Aerodrom lost all 4 games, so he decided to leave.
Also, the club announced that it has terminated contracts with Torey Thomas and Jeremiah Massey. They both joined MZT Skopje Aerodrom during the last summer.
"I am a coach and a man who respect moral values. Therefore, I submit my resignation and wish MZT Skopje Aerodrom all the best in future. I really gave my best, but it simply did not work. I think my decision is the best for the club and for me," said Emil Rajković after MZT Skopje Aerodrom got defeated by Cibona.
In the next match the team will be coached by Aleksandar Jončevski, who was the first assistant of Emil Rajković.
------------------
Emil Rajković podnese ostavka i poveće ne e trener na MZT Skopje
Porazot vo večerašnata sredba na domašen teren protiv Cibona (85-89), koj e četvrti vo niza vo novata sezona vo ABA-ligata, značeše i kraj na sorabotkata na MZT Skopje Aerodrom so trenerot Emil Rajkoviќ, koj po sredbata podnese neotpovikliva ostavka, koja beše prifatena od upravata na klubot.
"Jas sum trener i čovek koj neguva visoki moralni vrednosti i poradi toa podnesuvam neotpovikliva ostavka i deka na MZT Skopje Aerodrom mu posakuvam sreća vo sledniot period vo site natprevaruvanja. Se trudev, dadov sѐ od sebe, no ednostavno ne napravivme rezultat poradi što vakviot moj čekor možebi će bide podobar i za klubot i za mene", izjavi Rajkoviќ na pres-konferencijata po sredbata so zagrepčani.
Prethodno, dosegašniot predvodnik na "metalcite" dade svoe viduvanje na porazot od hrvatskiot tim, koj dojde po pekolna borba i dve prodolženija, a vo koj sostavot od "Jane Sandanski" vo eden moment imaše prednost i od 14 poeni (54-40).
"Vo večerašniot duel dadovme sе od sebe, igračite odigraa česno, sakaa da pobedat i vo toa ništo ne možam da im zabeležem. Fakt e deka nemavme sreća, ja imavme pobedata v race, no topkata vo nekolku navrati sama vleguvaše vo našiot koš po nekoi loši reakcii na Džoš Skot. Nastapivme vo sostav vo koj gi nemaše Džeremaja Mejsi i Tori Tomas, so koi rešivme da ja prekineme sorabotkata, so povredeni Drenovac i Lalić i so nevoigran Sinovec. Dosegašnite rezultati ne se dobri, no se so protivnici koi sigurno će bidat vo gorniot del od tabelata i ovoj roster što sega go oformivme mislam deka počnuvajći od duelot so Zadar pa do 12. kolo će ima šansi da se ostvarat potrebnite pobedi za etabliranje vo gornata polovina od ABA-ligata. Momcite definitivno imaat kapacitet i veruvam deka će uspeat vo toa", dopolni Rajković.
Ekipata na sledniot natprevar, v sreda protiv Lietkabelis vo ramki na Evrokupot, će ja vodi dosegašniot asistent, Aleksandar Jončevski.