INTERVIEW: Novica Veličković - I play the way I feel
Wednesday, 14. December 2016 at 13:51
He is the leader of this team. A true captain. And that will never change, as Novica Veličkovič will always be there for his Partizan NIS, the club he truly loves.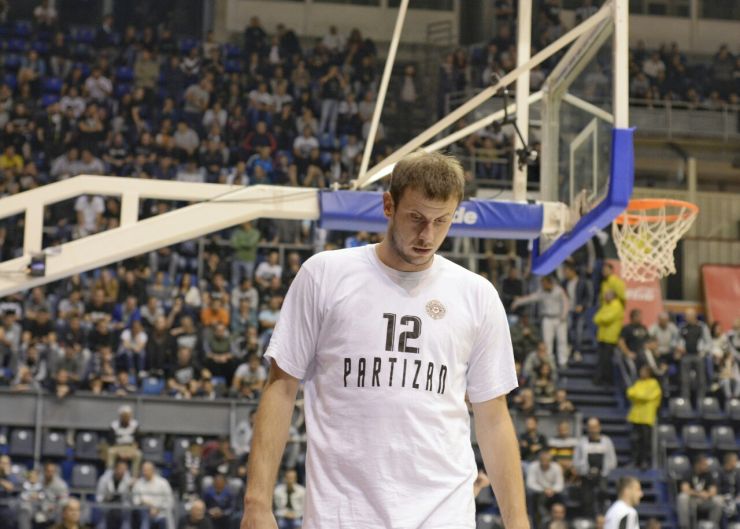 Novica Velickovic (Photo: Partizan NIS)
He is the leader of this team. A true captain. And that will never change, as Novica Veličković will always be there for his Partizan NIS, the club he truly loves.
In the ongoing season Veličkovič is one of the best players of the black & white crew, while his team has finished the 1st part of the 2016/17 campaign at the 2nd place on the standings.
And his ambitions does not stop there...
Read the full interview with Novica Veličković.
Partizan NIS have continued scoring wins in the ABA League, this time you defeated Igokea after a major comeback in the 2nd half. What exactly happened in the locker room during the big break?
"We played the 1st half pretty slow, but then we woke up in the 3rd quarter. We increased the pace, took over the control of the match and eventually scored a win. We were all aware that our performance in the 1st half was not even close of what we are capable of. When we started playing our game, we managed to turn the things in our advantage."
After a long time, one match of Partizan NIS did not have a thrilling ending. How do you explain playing so many games which were decided in the last seconds?
"Inexperience... It's not that we lack desire, but in some moments we find it difficult to make important shots. We should grow as a team every week and try winning games more easily. Sometimes it is hard to explain how are we losing our lead during the matches, but it is all part of maturing. We also have some experienced players in the team, however they probably haven't played under such pressure so far in their careers. I believe that we will continue to grow as the season goes by."
After the 1st part of the 2016/17 ABA League season your team is holding the 2nd position. How much are you satisfied with your overall score so far?
"I am not completely satisfied, because I think we could have won two more games. On the other side, we have won some games which were very close. If we had won two more, it would have been an excellent start. Maybe I am not fully realistic, because 10 wins out of 13 rounds is still a remarkable result."
Which moment from the 1st part of the season would you say was the best, and which one was the worst?
"Defeats are the worst part of the season. For example, when the ball hits the board and you concede a three-pointer in the final seconds, and you make a foul on that player along the way (Partizan NIS - Budućnost VOLI)... But, I would not single out any of them. While the best part are victories, of course. As much as I am annoyed with the fact that we could have won some games much earlier, at the end the win is the only thing that matters."
Partizan NIS, and you especially, are well-known for having a special relationship with your fans. How do you feel when Partizan NIS fans chant your name, like they did after the match against Krka in Novo mesto?
"It certainly means a lot to me. I play the way I feel. I play with emotion, which has always guided me through my career and the crowd loves that. When I have something to say to my teammates I say it. I do not like to remain silent. I always give my best and the fans' support means a lot of me in those moments."
Speaking about your relationship with the fans, you are very active on Social Networks. How much does that communication with the fans means to you?
"Lately I have been more active on Social Networks and that communication with the fans certainly means a lot to me. I like to share pictures with my teammates, to do all the stuff Social Networks are meant for. I am not addicted to them, but I think that you should express your emotions somehow. On the right way, of course."
Finally, what are your expectations for the 2nd part of the season?
"My expectations are always the highest."
-----------------
Novica Veličković - "Igram onako kako osećam"
On je lider ekipe. Pravi kapiten. I to se neće nikada promeniti, jer Novica Veličković će uvek biti tu za svoj Partizan, klub koji istinski voli.
U tekućoj sezoni, Veličković je jedan od najboljih igrača crno-belih, a njegov tim je završio prvi deo ABA kampanje na drugom mestu na tabeli. Ipak, tu se ambicije Novice Veličkovića sigurno ne zaustavljaju.
Pročitajte ceo intervju sa kapitenom Partizana NIS.
Partizan NIS je nastavio pobednički niz u ABA ligi, ovoga puta posle velikog preokreta protiv Igokee. Šta se tačno desilo u svlačionici izmedju dva poluvremena?
"Prvo poluvreme smo odigrali dosta usporeno, a onda smo se u drugom poluvremenu trgli, dodali gas, preveli utakmicu i dobili. Svi smo bili svesni naćina na koji smo odigrali prvo poluvreme, da to nije ni upola onako kako bi trebalo da igramo. Kad smo se malo trgli, preokrenuli smo meč."
Posle dužeg vremena, Partizan NIS nije odigrao meč sa dramatičnom završnicom. Kako objašnjavate toliki broj utakmica na jednu loptu?
"Neiskustvo... Nije da nam nedostaje želja, nego se prosto nekada stegnu ruke. Treba da rastemo iz kola u kolo i da dobijemo što više laganih završnica. Neobjašnjivo je nekada da gubimo prednost, ali to je deo sazrevanja. Imamo mi u timu i iskusnih igrača, ali verovatno nisu igrali pod ovakvim pritiskom. Verujem da ćemo da rastemo kako sezona bude odmicala."
Posle prvog dela sezone vaš tim se nalazi na drugom mestu na tabeli? Koliko ste zadovoljni učinkom u ABA ligi do sada?
"Ja nisam u potpunosti zadovoljan, jer mislim da smo ispustili dve utakmice. Sa druge strane, neke smo dobili koje smo bili u egalu. Da smo još dve dobili, bio bi to sjajan start. Možda ja nisam do kraja realan, jer je 10 pobeda u 13 kola ipak odličan rezultat."
Koji momenat iz prvog dela sezone biste izdvojili kao najbolji, a koji kao najgori?
"Porazi su najgori deo sezone. Recimo, kada primiš trojku o tablu i uz faul... Ali, ne bih ni jedan izdvajao. A najbolji deo su pobede. Koliko god se ja nervirao što to ne završimo ranije, svaka je bitna."
Partizan NIS, a posebno vi lično, ste poznati po gajenju odličnih odnosa sa navijačima. Kako se osećate u trenucima kada Grobari skandiraju vaše ime, kao što se to desilo i nakon utakmice u Novom mestu?
"Sigurno da mi znači. Ja igram onako kako osećam, igram sa emocijom, to me je uvek vodilo i publika to voli. Kada imam da kažem nešto saigračima, ja to i uradim. Ne volim da prećutim, da se foliram, uvek dam koliko god mogu i naravno da tada podrška znači."
Shodno sa tim, veoma ste aktivni i na društvenim mrežama. Koliko vam znači ta komunikacija sa navijačima?
"U poslednje vreme sam se malo više aktivirao, ali sigurno znači. Volim i da sa saigračima delim slike, sve te stvari za šta i služe društvene mreže. Nisam zavisnik od njih, ali sigurno da emocije treba iskazati. Naravno, na pravi način."
Koja su vaša očekivanja od drugog dela sezone?
"Uvek najveća."