Boatright sidelined for at least 10 days, Arapović at least 6 months
Monday, 03. April 2017 at 09:00
Finals of the season are approaching for Cedevita and they will open it on 10 April without Ryan Boatright and Marko Arapović, that got injured in the game against Partizan NIS. Dr. Cerovečki, Cedevita doctor and the surgeon at the traumatology clinic in Zagreb has analysed the situation.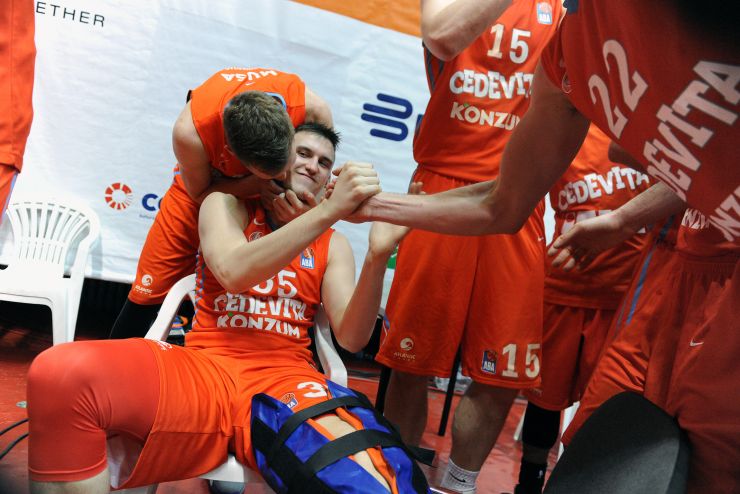 Marko Arapovic (Photo: Cedevita/Marin Susic)
"Ryan Boatright has suffered a rupture of the muscle of the hamstring of the right thigh. He will be out of basketball courts for at least ten days and more will be known on Tuesday after detailed diagnosis. Marko Arapović, though, has suffered a ruptured patellar ligament of the left knee which is one of the toughest injuries in sports in genera. A detailed diagnosis will be made on Monday afternoon, as well as special operative procedure at the traumatology hospital. His recovery will take place for at least six months," dr. Tomislav Cerovečki told.
--------------------
Boatright propušta minimalno 10 dana, a Arapović 6 meseci
Finale ABA lige dolazi ali Cedevita će 10.04. prvu utakmicu odigrati bez Ryana Boatrighta i Marka Arapovića koji su se u polufinalnoj majstorici protiv Partizana ozlijedili. Jutro donosi realno stanje a prenosi ga dr. Tomislav Cerovečki, liječnik Cedevite i kirurg ortoped Klinike za traumatologiju Zagreb.
"Ryan Boatright ima rupturu mišića zadnje lože desne natkoljenice. Sa terena će izbivati minimalno desetak dana a o težini ozljede i veličini rupture znat će se više u utorak nakon detaljne dijagnostike. Marko Arapović ima rupturu patelarnog ligamenta lijevog koljena što je jedna od najtežih sportskih ozljeda uopće. Čeka se detaljnu dijagnostiku tijekom ponedjeljka popodne kao i posebne operativne dodatke i lijekove iz Njemačke pa ćemo ga operirati u Traumatološkoj bolnici. Oporavak će trajati minimalno 6 mjeseci," rekao je dr. Cerovečki.