Uroš Luković two seasons with Mornar
Saturday, 08. July 2017 at 11:01
Uroš Luković agreed to sign a contract with Mornar for the upcoming two seasons, the club reports. He will be a proper reinforcement at the position number five, which was a weak side of the Bar ABA League side over the past couple of seasons.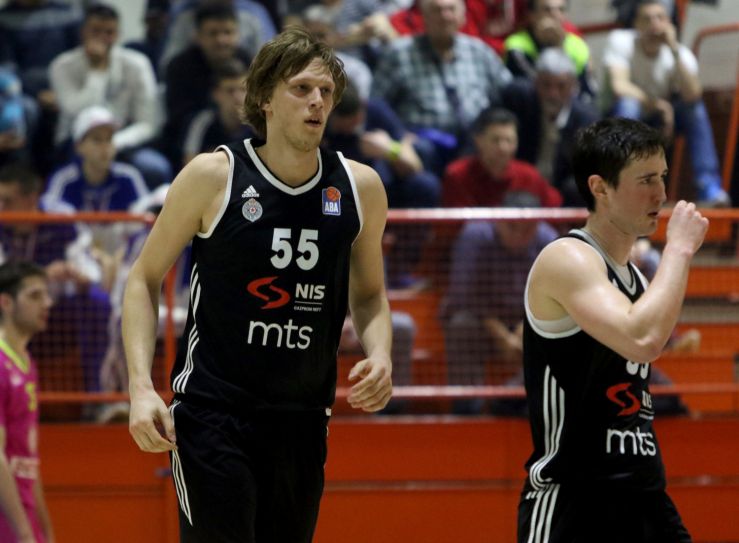 Uros Lukovic, Stefan Pot (Photo: Mega Leks/Ivica Veselinov)
Uroš Luković has, as a Belgrade-born child, begun his career at KK Torlak. Later he played for FMP, Radnički Basket, Zaragoza, Kumanovo, Kožuv, MZT Skopje Aerodrom, Tartu and since 2016 Partizan NIS.
213 cm tall center is the tenth player for Mornar's roster ahead of the upcoming extremely tough season for the club of Bar. Before him old members of the squad Marko Ćalić, Marko Mugoša, Radoje Vjošević, Vukota Pavić, Boris Bakić and Emir Hadžibegović, as well as the newcomers Nemanja Vranješ, Strahinja Mićović and Brandis Raley-Ross were the ones to do the same. It is expected that captain Marko Mijović should do the same in the forthcoming days and it remains to be seen who is to follow.
Luković averaged 7.9 points, 5.3 rebounds and 1.6 blocks per game in the ABA League last season.
--------------------
Uroš Luković dvije godine u Mornaru
Uroš Luković potpisao je ugovor s Mornarom na dvije godine, javlja klub iz Bara. Biće pravo pojačanje na poziciji pet, na kojoj je barski ABA ligaš bio deficitaran minulih sezona.
Luković je, kao rođeni Beograđanin, karijeru započeo u beogradskom KK Torlak. Zatim je bio član FMP-a, Radničkog basket, Saragose, Kumanovo, Kožuv i MZT Skoplje Aerodrom, Tartua i od avgusta 2016 Partizana NIS.
Dvjesta trinaest centimetara visoki centar je deseti igrač koji je stavio paraf na vjernost Mornaru za predstojeću izuzetno zahtjevnu sezonu kluba iz Bara. Prije njega to su učiniči starosjedioci Marko Ćalić, Marko Mugoša, Radoje Vujošević, Vukota Pavić, Boris Bakić i Emir Hadžibegović, kao i novajlije Nemanja Vranješ, Strahinja Mićović i Brendis Reli Ros. Očekuje se da nastavak saradnje sa Mornarom ozvaniči i kapiten Marko Mijović, a ostaje da se vidi koga će još u svoj klub dovesti Đorđije Pavićević, koji je nedavno starijem bratu Mihailu prepustio mjesto šefa stručnog štaba.
Luković je u prosjeku belježio 7,9 poena, 5,3 skokova te 1,6 blokade po meču u ABA ligi prošle sezone.