Cedevita advance to the ABA Super Cup Finals
Friday, 22. September 2017 at 19:45
We have the first finalist of 2017 ABA League Super Cup. The name is - Cedevita Zagreb!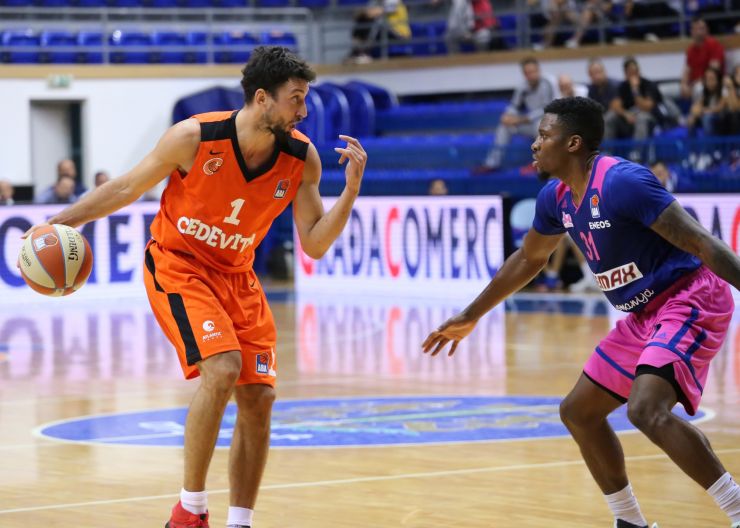 Roko-Leni Ukic (Photo: Mornar/Media Pro)
ABA League Super Cup, Semi-Finals, Friday, 22.9.2017:
CEDEVITA - Mega Bemax 99:96 (25:25, 34:20, 24:22, 16:29)
Cedevita: Nichols 17 (5 rebs), Musa 16, Murphy 15 (4 rebs), Krušlin 13 (6 rebs), Tončinić 13, Stipanović 6, Žganec 6, Ukić 5 (4 ast), Katić 5, Bajo 3, Perković.
Mega Bemax: Fundić 18 (8 rebs), Ennis 16 (5 rebs), Lazić 16 (13 rebs), Rebić 14 (9 ast), Čančar 10 (5 rebs), Bitadze 7, Samardžiski 6, Koprivica 5, Sinovec 4, Kapetanović, Marjanović, Čarapić.
Game recap: Everyone who considered Cedevita as one of the main favorites at the 2017 ABA Super Cup can now say that they were right. The Orange crew from Zagreb defeated the youngsters from Mega Bemax in the 2017 ABA Super Cup semi-finals, leaving them 3 points behind.
Therefore, we have the first finalists. Cedevita will play for the trophy on Satruday, while their opponent will be the winner of the match Mornar – Budućnost VOLI.
Key moments: Cedevita gained the crucial in the 2nd quarter, which they won by 34:20! Their offense worked perfectly in those moments, and every next basket gave them more and more confidence. And take a look at this – Cedevita scored 59 points in total in the 1st half! Mega Bemax had 45 at the big break…
But, it was far from over, as the young crew from Sremska Mitrovica played a stunning 2nd half! Mega Bemax have managed to reduce the margin to just one single point – 94:93, with 1 minute left on the clock! But, they did not succeed in taking over the lead from Cedevita, despite having 2 great chances.
Firstly, Aleksandar Lazić missed 2 free-throws and the score remained the same – 94:93 for Cedevita. After that Mega Bemax crew played a good defense, but while attempting to run for a fast-break Vlatko Čančar made the crucial turnover.
On the other side, Cedevita players made their free-throws so the final score was 99:96 for the Orange crew.