Billy Baron pens contract with Crvena zvezda
Saturday, 14. July 2018 at 16:00
The red & whites made their first signing in the 2018 summer transfer window.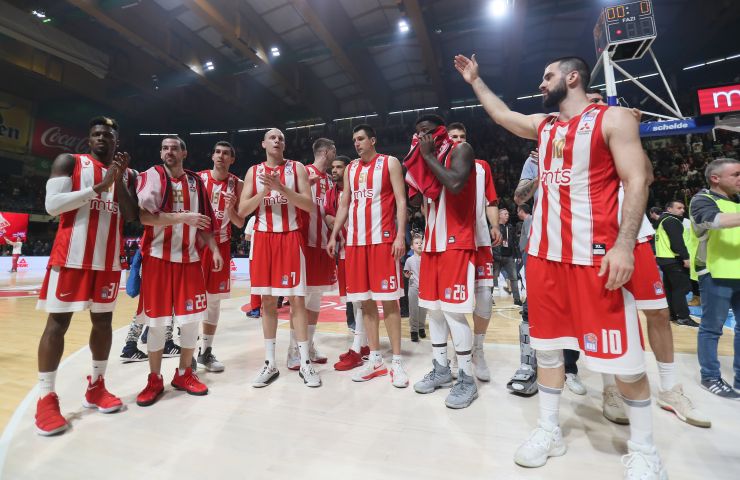 Crvena zvezda mts team (Photo: Crvena zvezda mts)
No more waiting for Crvena zvezda mts fans! The red & whites have officially made their first signing in the 2018 summer transfer window by finalizing the deal with American guard Billy Baron.
Baron has spent his entire pro career in Europe. After graduating in 2014, this 27-year old player went overseas to join Lietuvos Rytas. In the following years he played for Spirou Charleroi and Murcia, while he spent the 2017/18 season in Eskişehir Basket where he averaged 16 points, 4 assists and 3 rebounds per game.
Baron comes from a basketball family, as his father Jim works as a coach at Canisius College, while his older brother Jimmy currently plays for Lietuvos Rytas.
----------------
Bili Baron novo pojačanje Crvene zvezde!
Amerikanac Bili Baron novo je pojačanje KK Crvena zvezda mts za sezonu 2018/2019!
Ovaj 27-godišnji "kombo" bek visok je 188 centimetara, odlukuje ga odličan šut i karakterističan prodor, a već poseduje zavidno iskustvo igranja u evropskoj košarci.
Nakon koledž karijere, tokom 2014.godine nastupao je za Lijetuvos Ritas, a kasnije i za ekipe Spiru Šarlroa, da bi se 2016-2017 otisnuo u špansku ACB ligu gde je nastupao za tim UCAM Mursije. Prošlu sezonu proveo je u ekipi turskog Eskišehira gde je za 31 utakmicu ubacivao prosečno 16 poena uz 4 asistencije i 3 skoka po meču.
Osim karakterističnog šuta i prodora, Bilija odlikuje i vrlo čvrsta igra u odbrani, a ovaj momak rodom iz Pensilvanije odrastao je u košarkaškoj porodici . Njegov otac Džim Baron je trener na koledžu "Kanisius", dok je mu je rođeni brat Džimi takođe profesionalni košarkaš.
Bili Baron je 2017.godine bio i reprezentativac SAD na FIBA Amerikupu gde je osvojio zlatnu medalju.