Vujošević two more seasons with Mornar
Tuesday, 17. July 2018 at 15:39
Center of Mornar Radoje Vujošević will remain for two more seasons in the ranks of the ABA League side of Bar.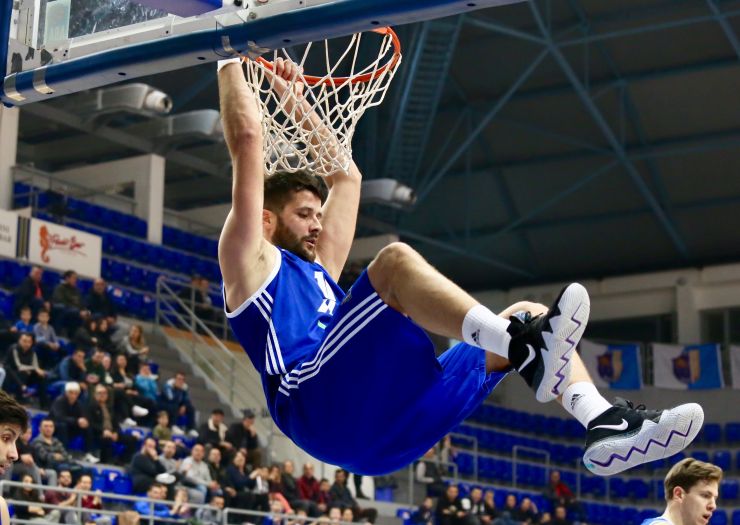 Radoje Vujosevic (Photo: Mornar/MEDIA Pro)
210 cm tall Nikšić-born player will continue his career in the club, where he started his professional career in the 2011/12 season. Vujošević has afterwards been playing for Sutjeska, Budućnost VOLI and Kumanovovo, all until returning to Bar in 2015.
"I am happy to be staying in the club, where I had spent the majority of my career. Last season we have achieved the historical success by reaching the semi-finals of the ABA League and by winning the Montenegrin National Championship trophy. I am happy that Luković has extended his cooperation with the club. We used to be a solid duo and I believe that it would stay the same for the next season, which we believe that it would be more successful or at least equally successful than the last one," Radoje Vujošević told after reaching an agreement with Đorđije Pavićević and signing a 2-year contract with the club.
---------------------
Vujošević još dvije sezone u Mornaru
Centar Mornara Radoje Vujošević ostaje i naredne dvije sezone u redovima ABA ligaša iz Bara.
Ovaj dva metra i deset centimetara visoki Nikšićanin nastavlja karijeru u klubu u kojem je i započeo svoj profesionalni put, u sezoni 2011/12. Vujošević je potom branio boje Sutjeske, Budućnosti i Kumanova, da bi se od 2015. definitivno stacionirao u Baru.
"Drago mi je što ostajem u klubu u kojem sam proveo veći dio karijere. Prošle sezone ostvarili smo istorijski uspjeh plasmanom u polufinale plej-ofa ABA lige i osvajanjem titule prvaka Crne Gore. Srećan sam što je i Luković potpisao, bili smo dobar tandem, vjerujem da će tako biti i u narednoj sezoni od koje očekujemo da bude još uspješnija ili makar na nivou prošlogodišnje," kazao je poslije dogovora sa glavnim menadžerom Mornara Đorđijem Pavićevićem i potpisivanja dvogodišnjeg ugovora, stameni centar Mornara Radoje Vujošević.