Vujačić is coming to Ljubljana
Thursday, 23. August 2018 at 13:53
Petrol Olimpija has a new reinforcement at the shooting guard position. 18-year old Slovenia U18 national team member Petar Vujačić is coming to Stozice.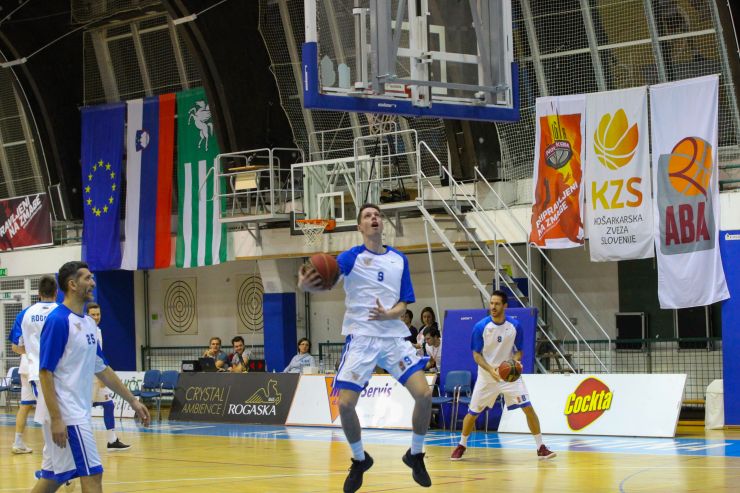 (Photo: Rogaska)
The roster of the reigning Slovenian national champions will be reinforced by the talented 18-year old and 196 cm tall guard, born in Maribor, Petar Vujačić. The player agreed to sign a 4-year contract with the Dragons.
Vujačić, the stepbrother of the former Slovenia international and former NBA champion Sasha Vujačić, is coming to Ljubljana from Rogaska, for which he used to play in the Liga Nova KBM and ABA League 2 last season.
The new Dragon was showing off his vast potential this summer at the U18 European Championship in Skopje, where he was one of the key players of the Slovenia national team and was averaging 14.4 points, while scoring 40% from beyond the arc, alongside 3.6 rebounds, 1.8 assists and 1.6 steals per game in 25.9 minutes spent on court on average. With the average valuation of 12.6 he was the most efficient player of the Slovenian squad and was also the second-best scorer and passer of our team.
Petar Vujačić told after signing with the Dragons: "I am very happy to be a part of Petrol Olimpija. I would also like to thank Rogaška for the opportunity that they gave me in the past few seasons. I can not wait that the season begins and to wear the Dragons jersey for the first time."
--------------------
Vujačić prihaja v Ljubljano
Petrol Olimpija ima novo okrepitev na položaju branilca. V Stožice prihaja 18-letni mladinski reprezentant Slovenije Petar Vujačić.
Kader aktualnih državnih prvakov Slovenije bo v novi sezoni močnejši za izjemno nadarjenega 18-letnega in 196 cm visokega branilca rojenega v Mariboru Petra Vujačića. Ta je z Zmaji podpisal štiriletno pogodbo.
Vujačić, sicer polbrat nekdanjega članskega reprezentanta Slovenije in nekdanjega NBA prvaka Saše Vujačića, v Ljubljano prihaja iz Rogaške, za katero je v minuli sezoni nastopal v Ligi Nova KBM ter Drugi Ligi ABA.
Svoj razkošni talent je novi Zmaj to poletje prikazal na evropskem prvenstvu do 18 let v Skopju, kjer je bil eden od nosilcev slovenske izbrane vrste in je v povprečno 25,9 minutah na parketu beležil po 14,4 točke ob 40-odstotnem metu za tri točke, 3,6 skoka, 1,8 podaje ter 1,6 pridobljene žoge na srečanje. S povprečnim indeksom 12,6 je bil najučinkovitejši posameznik v slovenskem moštvu, bil pa je tudi drugi strelec ter drugi podajalec naše zasedbe.
Veliko časa bo Vujačić preživel tudi na treningih ekipe Petrol Olimpija U19, saj s svojo starostjo še vedno spada med mlajše košarkarje. Mlado moštvo, ki ga bo v novi sezoni vodil Žiga Mravljak, je tako v Vujačiću dobilo pomembno okrepitev, ki bo v prihodnjih sezonah zagotovo velik del uspeha mlajših ekip in članske ekipe.
Petar Vujačić je po podpisu sodelovanja z Zmaji dejal: "Zelo vesel sem, da sem postal član Petrol Olimpije. Ob tej priložnosti bi se rad zahvalil Rogaški in vodstvu kluba za ponujeno priložnost v zadnjih sezonah. Komaj čakam, da se sezona začne, in da prvič oblečem dres Zmajev."