Sixt Primorska reinforced by Žiga Dimec
Wednesday, 05. June 2019 at 16:43
Sixt Primorska strengthened their ranks with their first reinforcement ahead of the new season. The Koper squad got stronger by signing Slovenian international Žiga Dimec.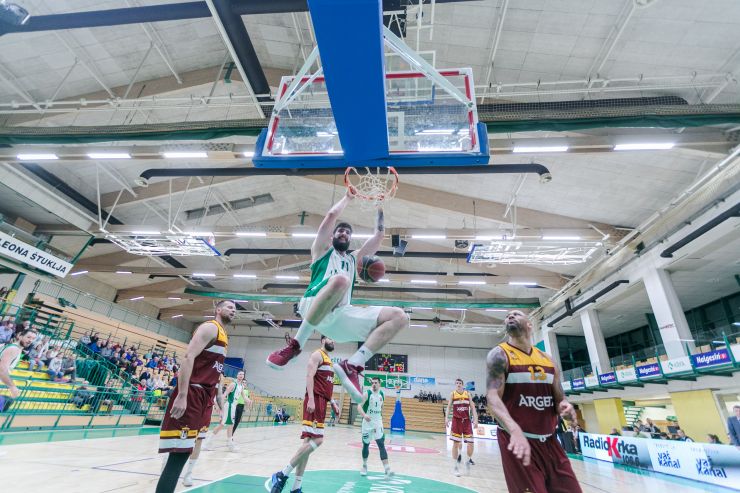 Ziga Dimec (Photo: Krka/Danilo Kesic)
The squad of Primorska region, which will test their skills in the ABA League for the first time ever, after winning the ABA League 2 trophy last season, started to compose its roster for the forthcoming season by bringing in Žiga Dimec.
Dimec is moving to Koper from Lithuanian squad Lietkabelis, with which he used to play in the Basketball Champions League, and he won the final fourth place in the Lithuanian domestic championship with Lietkabelis last Friday. The center moved to Baltic region at the end of November. In the Lithuanian top division he spent 32 games, averaging 20 minutes, 8.2 points and 3.2 rebounds per game.
Dimec started the previous season at German squad Medi Bayreuth, which was his first experience out of the Slovenian borders. Before that he used to play for Krka, Rogaška, Konjice and his hometown club of Zlatorog. He already played ABA League games before in the jerseys of Krka and Zlatorog.
As he arrived to Koper, Dimec told: "Sixt Primorska are offering me a chance to make a step forward in my career. The team has the highest goals, which I like a lot. Koper is offering a pleasant climate and is far closer to my home, than it used to be in my last playing season. Those were the main reasons for us to agree on cooperation. I wish to make progress in my game in the next season under the guidance of Jurica Golemac and the rest of the coaching staff. I will do my best in order to help the team to repeat excellent results from the previous season."
--------------------
Sixt Primorsko okrepil Žiga Dimec
Sixt Primorska je v svoje vrste zvabila prvo okrepitev pred novo sezono. Klub iz Kopra je postal močnejši za slovenskega reprezentanta Žigo Dimca.
Primorsko moštvo, ki se bo v prihodnji sezoni premierno preizkusilo v Ligi ABA, potem ko je v minuli sezono osvojilo naslov Druge lige ABA, je s prihodom Dimca začelo dopolnjevati igralski mozaik pred novo sezono.
Dimec se v Koper seli iz litvanskega prvoligaša Lietkabelisa, s katerim je nastopal v košarkarski Ligi prvakov, minuli petek pa z njim v tamkajšnjem državnem prvenstvu osvojil končno četrto mesto. Robustni center je na Baltik prestopil konec novembra. V litvanski prvi ligi je odigral 32 tekem. Na igrišču je v povprečju preživel 20 minut in pol, v katerih je 8,2 točkama dodajal 3,2 skoka na srečanje.
Minulo sezono je sicer 26-letni Dimec začel pri nemškem Medi Bayreuthu, ki je bil njegova prva izkušnja izven slovenskih meja. Pred tem je v domovini branil barve Krke, Rogaške, Konjic in matičnega Zlatoroga. V dresu klubov iz Novega mesta in Laškega si je že nabiral tudi izkušnje v regionalni ligi.
Ob prihodu v Koper je Dimec povedal: "Sixt Primorska mi ponuja priložnost, da na svoji športni poti stopim korak naprej. Ekipa ima visoke cilje, kar mi je izredno všeč. Tudi mesto Koper ponuja ugodno klimo za življenje in se nahaja precej bližje mojega doma, kot je bilo to v minuli sezoni. To so bili poglavitni razlogi, da smo sklenili dvoletno sodelovanje. V novi sezoni si želim, da pod vodstvom Jurice Golemca in ostalih članov strokovnega štaba čim bolj napredujem v igri. Naredil bom vse, da z ekipo ponovimo izjemne dosežke iz minule sezone."