Ognjen Kuzmić is back at Crvena zvzeda mts
Thursday, 04. July 2019 at 00:12
Serbian international Ognjen Kuzmić is back amongst the red and white. Kuzmić signed a 2-year deal with the Belgrade side.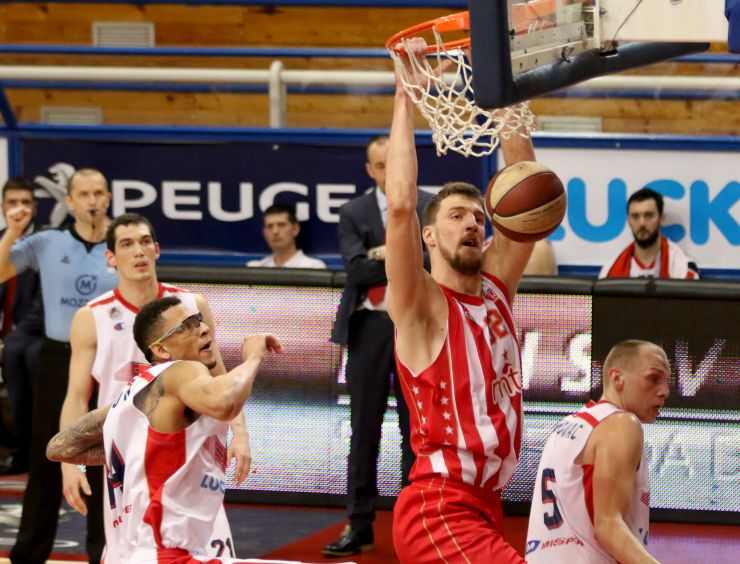 Ognjen Kuzmic (Photo: FMP)
Doboj-born Ognjen Kuzmić, who is 214 cm tall and weights 116 kg, spent the previous two seasons with Real of Madrid.
Kuzmić used to play for Crvena zvezda mts in the 2016/17 season. He also played for Panathinaikos, Goldent State Warriors and Unicaja in his career.
Ognjen Kuzmić was also a member of Serbia national team at the 2015 and 2017 EuroBasket tournaments. He is Serbian senior international since 2014.
After extending contracts with Baron, Čović, Lazić, Faye, Simanić and Perperoglou and signing a one-year deal with Derrick Brown, Crvena zvezda mts has now signed with Ognjen Kuzmić and made another big deal during the summer period, but the transfer period isn't over for the red and white yet.
---------------------
Ognjen Kuzmić se vratio u Crvenu zvezdu mts
Reprezentativac Srbije Ognjen Kuzmić vraća se među crveno-bele. Kuzmić je u sredu potpisao dvogodišnji ugovor.
Kuzmić, rodom iz Doboja visok je 214 centimetara i težak 116 kilograma, a prethodne dve sezone proveo je u Realu iz Madrida.
Najbolju godinu u evropskoj košarci Kuzmić je odigrao upravo u dresu Crvene zvezde u sezoni 2016-2017 kada je fantastičnim igrama, poenima, skokovima i blokadama stekao epitet jednog od najboljih centara Evrolige, i dobijao i nagrade za najkorisnijeg igrača tog takmičenja. U toj sezoni bio je integralni deo tima koji je osvojio "triplu krunu".
Pre toga nastupao je i za ekipe Panatinaikosa, Golden Stejt Voriorsa, Unikahe...
Ognjen Kuzmić je bio učesnik EP 2015 i 2017 godine u dresu reprezentacije Srbije za koju nastupa od 2014. godine.
Nakon obnavljanja ugovora sa Beronom, Čovićem, Lazićem, Fajeom, Simanićem, Perperogluom, i potpisa jednogodišnjeg ugovora sa Derikom Braunom, Crvena zvezda mts je angažovanjem Ognjena Kuzmića obavila još jedan veliki posao u ovom prelaznom roku, koji za klub još nije završen.