James Gist pens a 2-year contract with Crvena zvezda mts
Monday, 08. July 2019 at 01:03
Experienced power forward returns to the regional league!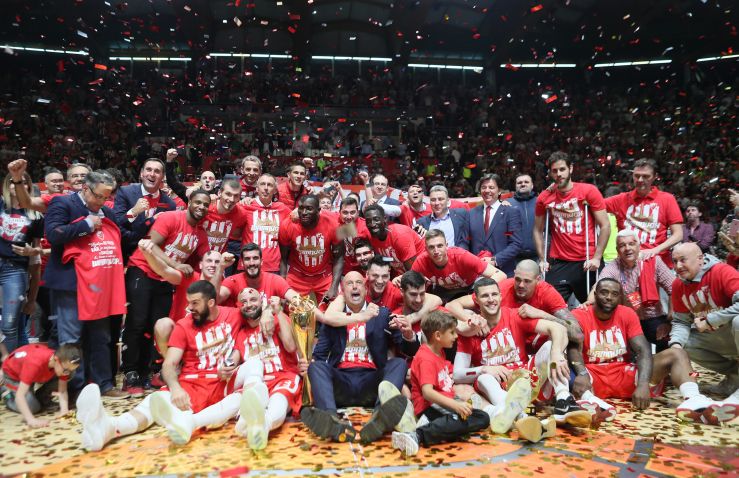 Crvena zvezda mts team (Photo: Crvena zvezda mts)
American power forward James Gist will once again play in ABA League, as he signed a 2-year contract with Crvena zvezda mts. Recall that this 32-year old player spent 1 season in Partizan NIS with whom he won the regional league back in 2011.
James Gist played the last 7 years in Panathinaikos Athens and during that time he has won plenty of throphies with the Greek powerhouse. He helped Panathinaikos Athens win 5 Greek Championships and 6 Greek National Cups.
Crvena zvezda mts have therefore made another major signing for the next season. The reigning ABA League champions had previously signed contracts with Derrick Brown, Ognjen Kuzmić and Charles Jenkins, while they have extended cooperation with no less than 7 players – Branko Lazić, Filip Čović, Billy Baron, Mouhammad Faye, Stratos Perperoglou, Boriša Simanić and Ognjen Dobrić.
--------------
Džejms Gist u crveno-belom!
Amerikanac Džejms Gist novo je pojačanje Crvene zvezde u koju stiže iz redova Panatinaikosa!
Džejms Gist koji igra na pozicijama centra i krilnog centra potpisao je u kasnim večernjim satima u nedelju dvogodišnji ugovor sa crveno-belima i predstavljaće još jedno ogromno pojačanje za Crvenu zvezdu u takmičarskoj sezoni 2019-2020.
Ovaj 32-godišnji košarkaš fantastičnih fizičkih predispozicija studirao je na koledžu Merilend, a svoje ime izgradio je igrajući u evropskim klubovima: italijanskoj Anđeliki Bijela, Lokomotivi Kubanj, Partizanu, Fenerbahčeu, Unikahi, dok je čak šest sezona proveo u Panatinaikosu.
Sa grčkim klubom je osvojio pet nacionalnih prvenstava i šest trofeja Kupa, odlikuje ga izuzetan skok eksplozivnost, ogromna snaga i sjajne fizikalije, zbog čega "pokriva" dve pozicije ispod koša. Visok je 207 centimetara, težak je 107 kilograma.
Nakon Derika Brauna, dobro poznatih lica Ognjena Kuzmića i Čarlsa Dženkinsa, Gist je četvrto pojačanje Crvene zvezde. Podsećamo, nove ugovore potpisali su starosedeoci – kapiten Branko Lazić, Filip Čović, Bili Beron, Mohamed Faje, Stratos Perperoglu, Boriša Simanić i Ognjen Dobrić.