Patar Marić extends contract with Zadar
Monday, 09. September 2019 at 11:19
Experienced shooting guard is staying at Višnjik.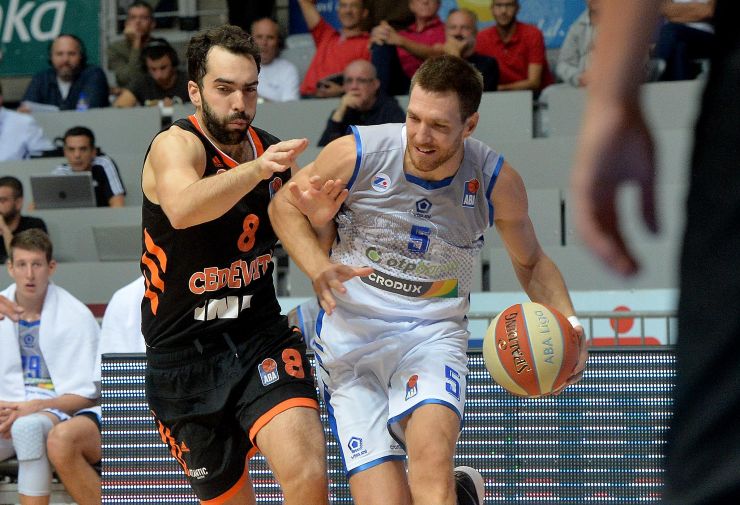 Petar Maric (Photo: Zadar/Zvonko Kucelin)
After he made a debut for his hometown club in the last season, it is now confirmed that Petar Marić will remain in his beloved Zadar! The two sides have signed a 1-year contract extension, which means that this 31-year old shooting guard will be part of 2018/19 Zadar team.
Marić averaged 3.5 points and 1.1 rebounds per game in the 2018/19 ABA League season.
Before coming to Zadar one year ago, Marić played for Zabok, Cibona, Kvarner 2010 and Borik Puntamika.
---------------------
Petar Marić produžio suradnju sa KK Zadar
Nakon što je prošle godine debitirao u svom rodnom gradu, potvrđeno je kako će Petar Marić braniti zadarske boje i u novoj sezoni 2019./2020.
Podsjetimo, 196 centimetara visoki branič košarkom se počeo baviti upravo u Zadru gdje je igrao za Voštarnicu i Borik Puntamiku. U svojoj profesionalnoj karijeri nastupao je i za Zagreb, davne 2007. godine te Zabok i Kvarner. Vrlo dobra sezona u redovima riječkog prvoligaša nije prošla nezamijećeno i otvorila mu je vrata zagrebačke Cibone.
Nakon Cibone, vratio se u Zabok, inače klub u kojem je ostavio najdublji trag te bio kapetan momčadi.
Prvi doticaj s ABA ligom imao je najprije u dresu Zagreba, a kasnije i s Cibonom.
Prošlogodišnja premijera u zadarskom dresu nije bila najbolji pokazatelj Marićevih sposobnosti obzirom na ozljedu leđa, koja ga je mučila u par navrata. Nastupi u ABA ligi bili su stoga na 3.5 poena i 1.1 skokova po susretu.
U domaćem prvenstvu bilježio je 6.1 poena, 1.9 skokova i 1.5 asistenciju po utakmici. Svoju najbolju partiju pružio je u Šibeniku protiv 'Građana', kada su Zadrani deklasirali domaću momčad 66 – 86, a Marić je sjajnu utakmicu završio sa 17 ubačaja i još boljih 83% točnosti za dva poena.
Važno je spomenuti kako je Zadranin ovo ljeto u Krešinom domu intenzivno radio i trenirao kako bi se što bolje pripremio za nadolazeće izazove u sklopu ABA i HT Premijer lige.
Suradnja domaćeg igrača s KK Zadar potpisana je na godinu dana, a mi Petru Mariću želimo što uspješniju sezonu u plavo-bilom dresu.