Marko Pecarski moved to FMP
Friday, 20. September 2019 at 20:40
Talented power-forward signed a three-year deal and will remain at FMP until July 2022.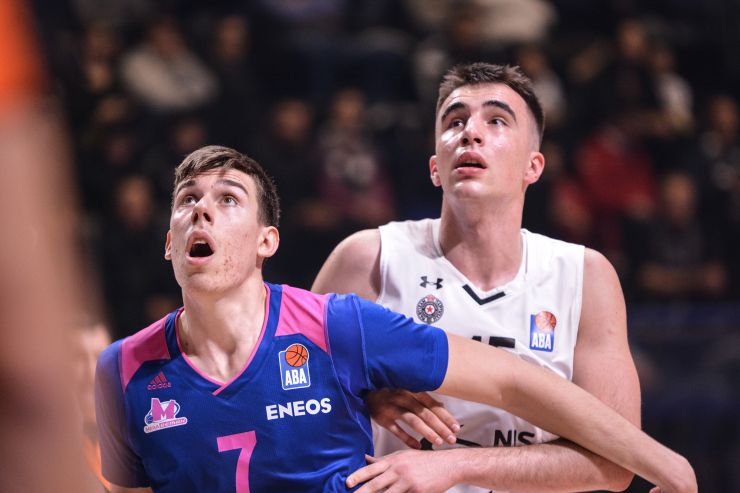 Marko Pecarski (Photo: Partizan NIS)
Arrival of Marko Pecarski to FMP is another great recognition for the club, that has promoted several World-class players in the past.
Marko Pecarski will have all of the necessary conditions to develop his talent at FMP and to make another step forward in his career.
After Zemun, Mega Bemax, Bayern and Partizan NIS, he is coming to Železnik with a reputation of one of the greatest prospects of European and Serbian basketball.
As a 17-year old player, Pecarski won the gold medal at the 2017 U18 European Championship in Slovakia. A year later he repeated the success with the U18 national team and became the tournament MVP.
During the summer of 2019 he used to play for Serbia U19 and U20 national teams.
--------------------
Mladi reprezentativac Srbije Marko Pecarski novi je član FMP-a
Supertalentovani krilni centar potpisao je sa klubom trogodišnji ugovor i u KK FMP će ostati do jula 2022. godine.
Dolazak Marka Pecarskog u redove FMP-a, još jedno je veliko priznanje za klub koji je tokom prošlosti iznedrio, razvio i promovisao veliki broj svetski priznatih igrača.
U KK FMP Marko Pecarski će imati sve uslove da dalje razvija svoj veliki talenat i napravi veliki korak u svojoj karijeri. Nakon Zemuna, Mega Bemaxa, Bajerna i Partizana, stiže u Železnik sa epitetom jednog od najvećih talenata evropske i srpske košarke.
Marko Pecarski je kao 17-godišnjak sa reprezentacijom Srbije do 18 godina osvojio 2017. zlatnu medalju na Evropskom prvenstvu u Slovačkoj. Samo godinu dana kasnije osvojio je ponovo sa reprezentacijom do 18 godina zlatnu medalju i bio MVP.
Tokom leta 2019. godine bio je član reprezentacije Srbije do 19 godina, kao i selekcije do 20 godina na Evropskom prvenstvu.