Cedevita Olimpija part ways with Bratož and Artis
Monday, 13. April 2020 at 10:56
Cedevita Olimpija have reached an agreement to terminate contracts with point guards Domen Bratož and Dominic Artis. Both joined the squad of the Dragons in January 2020.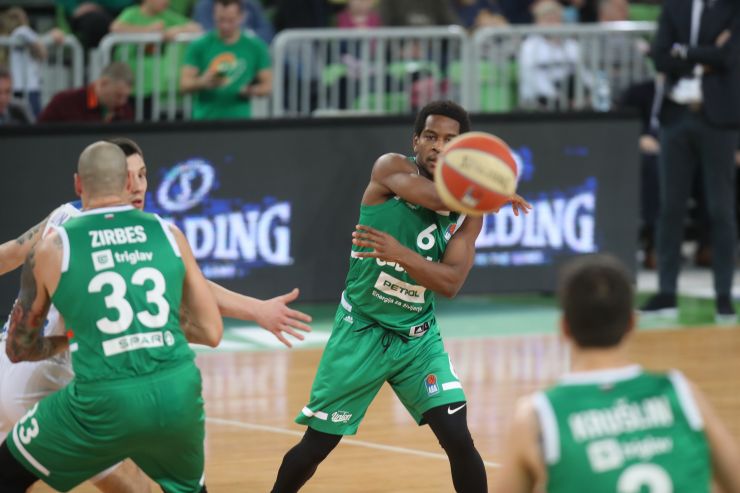 Dominic Artis (Photo: Cedevita Olimpija/Ales Fevzer)
Dominic Artis played four games for Cedevita Olimpija in the ABA League, averaging 6.8 points, 2.3 assists and 1.3 steals in 13.3 minutes. He showed his best performance of the season in Round 21 of the regional competition with the Budućnost VOLI, when he scored 12 points in 19 minutes of the game.
In the 2019/20 competitive season, Domen Bratož failed to register in the statistics departement in 15 seconds in the match against FMP in ABA League.
--------------------
Sporazumna prekinitev pogodb z Bratožem in Artisom
Ljubljanska Cedevita Olimpija je z organizatorjema igre Domnom Bratožem in Dominicom Artisom uspela doseči dogovor o sporazumni prekinitvi pogodb.
Ljubljanski klub nadaljuje s krčenjem igralskega kadra. Cedevita Olimpija se je s slovenskim organizatorjem igre Domnom Bratožem in ameriškim kreatorjem igre Dominicom Artisom, dogovorila za sporazumni prekinitvi pogodbi. Oba sta se ljubljanskim Zmajem pridružila konec letošnjega januarja.
Dominic Artis je za Cedevito Olimpijo v Ligi ABA zaigral na štirih tekmah in v povprečju dosegal 6,8 točke, 2,3 podaje in 1,3 pridobljene žoge v 13,3 minutah igre. Svojo najboljšo predstavo je prikazal na obračunu 21. kola regionalnega tekmovanja z Budućnostjo VOLI, ko je v 19 minutah igre dosegel 12 točk.
V tekmovalni sezoni 2019/20 se Bratož v Ligi ABA v 15 sekundah, ki jih je preživel na parketu proti FMP-ju, ni uspel vpisati med strelce.