Derek Needham is staying in Mornar
Friday, 01. May 2020 at 16:56
Another contract extension in the orange & blue troops!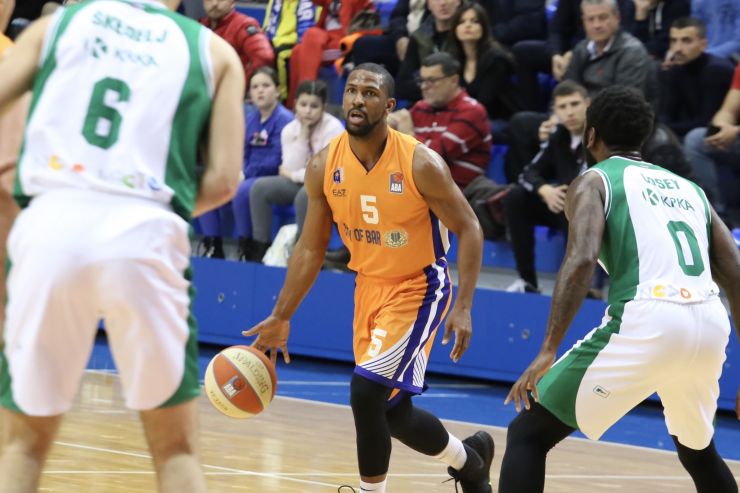 Derek Needham (Photo: Mornar/Media Pro)
It is official! Mornar announced that they have extended the contract with Derek Needham for 1 more season.
This 29-year old point guard has averaged 11.5 points, 4.5 assists and 4.1 rebounds per game so far in the 2019/20 ABA League regular season. Also, Needham has won the MVP of the round award two times in the ongoing season.
Derek Needham is one of the fans' favorites, as the people of Bar will never forget his performance in the 2017/18 season when Mornar reached the 2018 ABA League Playoffs and won the 2018 Montenegrin championship.
------------------
I Derek Nidam ostao vjeran "Ponosu Bara"!
Potpisivanje produžetka ugovora sa Mornarom obavio je danas i Derek Nidam!
Dvadesetdevetogodišnji Amerikanac sa crnogorskim pasošem bio je jedan od glavnih krivaca za osvajanje, za sada jedine šampionske titule Mornara (2018.), a u tom kontekstu vjerovatno će i njega, kao i navijače najpopularnijeg sportskog kolektiva na Južnom Jadranu, obradovati poruka predsjednika kluba Đorđija Pavićevića da će se u novoj sezoni jurišati na titulu regionalnog prvaka.
Nidam je u još nezavršenoj sezoni postizao prosječno 11,5 poena, imao 4,5 asistencija i 4,1 skok po meču. Dva puta je u toku sezone biran za MVP igrača kola, i to u 2. kolu kada je na meču sa Igokeom ubacio 22 poena, imao 6 asistencija i 7 skokova, i u pretposlednjem kolu protiv Krke kada je ubacio 12 poena, imao 11 asistencija i 3 skoka.