Šehović remains at Mornar
Saturday, 02. May 2020 at 12:39
Mornar jersey with number 8 on it will not be changing its owner next season.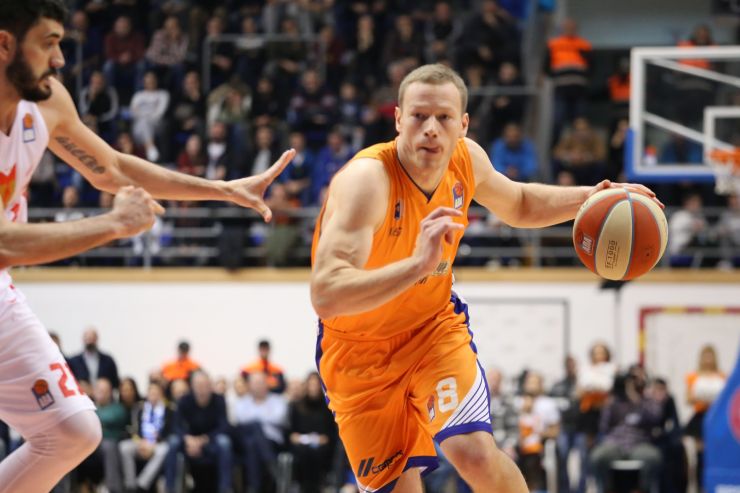 Sead Sehovic (Photo: Mornar/MEDIA Pro)
Sead Šehović extended with the Topolica squad, for which he has been averaging 4.4 points, 3.3 rebounds and 1.4 assists this season.
The Montenegrin international has had a great season in the role of the second point guard of the Bar squad and his best performances came in the second part of the season.
Šehović has extended his cooperation with Mornar until 2022.
As he signed a new deal with the Bar squad, Šehović stated: "I was pleased to accept the offer of our club's management to be a part of the Mornar squad, composed of the management, sponsors and our devoted fans. Out of at least two reasons, human and professional. The club has made the safe way home to all of our foreign players possible. I believe that this is more than enough for us to feel comfortable in Bar, just like at home. This kind of move by Mornar club is an example for the whole region and wider as well. This was the way for us to be sure that the management is planning its budget in realistic frames and an evidence, that Mornar is a product of love towards basketball and not just sports business. The players are recognizing this attitude, which became evident in the previous few years, as multi-year contracts have been signed by renowned basketball names such as Pullen, Needham, Bjelica, Whitehead and others. And all this happened as soon as 1 May, regardless of other possible offers."
--------------------
I Sead Šehović ostaje "mornar"
Ni Mornarov dres a brojem 8 neće naredne sezone mijenjati vlasnika.
Sead Šehović produžio je ugovor sa ekipom iz sportske dvorane Topolica, za koju je u još nezavršenoj sezoni u ABA ligi postizao prosječno 4,4 poena, imao 3,3 skoka i 1,4 asistenciju.
Crnogorski reprezentativac se, kada je zatrebalo, sjajno snašao u ulozi plejmekera a najbolje partije pružao je u drugom dijelu sezone.
Šehović je produžio ugovor sa Mornarom do 2022. godine.
Uz potpis novog ugovora sa Baranima, Šehović je izjavio: "Sa zadovoljstvom sam prihvatio ponudu uprave da i u naredne dvije godine budem ne samo dio tima već prije svega kolektiva KK Mornar, koji mi igrači činimo sa upravom, sponzorima i našim vjernim navijačima. I to iz najmanje 2 razloga, ljudskog i profesionalnog. Imeđu ostalog svim strancima u otežanim uslovima obezbijedio je siguran povratak kući. Vjerujem da je to i više nego dovoljno razloga da se u Baru svi osjećamo udobno i kao kod kuće.Takav potez menadžmenta Mornara je skoro jedinstven i mogao bi biti primjer kako u regionu tako i šire. Ovim smo se uvjerili da uprava kluba budžet planira na realnim osnovama i dokaz da KK Mornar je proizvod ljubavi prema košarci a ne samo biznisa u sportu. Igrači prepoznaju taj odnos što se i dokazalo u proteklih par dana potpisivanjem višegodisnjih ugovora od strane renomiranih košarkaških imena (Pulen, Nidam, Bjelica, Whitehead i drugi) i to već 1. maja ne razmišljajuci o potencijalnim drugim ponudama."