Kendrick Perry joins Cedevita Olimpija
Friday, 22. May 2020 at 23:04
Cedevita Olimpija will be stronger at the playing position of point guard and guard with Kendrick Perry, who joined the Ljubljana's club for the next season.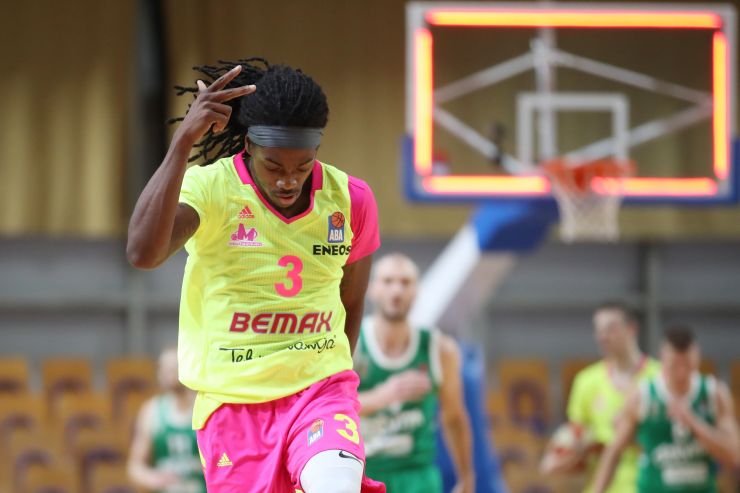 Kendrick Perry (Photo: Cedevita Olimpija/Ales Fevzer)
Cedevita Olimpija has started with the composition of the team for the upcoming competition season 2020/21. The first reinforcement of the Ljubljana's team is the outstanding Guard from the United States, Kendrick Perry. Last season, Slovenian basketball fans had the opportunity to follow Perry in the jersey of Belgrade's Mega Bemax, and before that he wore the jersey of the Metropolitans 92 of Paris. Perry will remain in Dragon's Nest for the next season.
In the 2019/20 season, Kendrick Perry was the ABA League's most efficient player with an average of 18.5 points per game, and he played for Mega Bemax in ten regular-season games. In these ten games, Perry once managed to exceed the limit of 30 points (in the Round 15 against Crvena zvezda mts; 31 points), and three more times he exceeded the limit of 20 points. He added 6.2 assists and 3.7 rebounds to his scoring average.
Perry put himself on the basketball map after spending four years at Youngstown State College, and after not being selected to the NBA roster in 2014, he was joined by the Orlando Magic for the NBA Summer League. He started the 2014/15 season as a member of the Sydney Kings and concluded in an Iowa Energy jersey in the NBA Development League. This was followed by the seasons he spent in the jerseys of Kormend, Karpoš Sokoli, Szolnoki Olaj and Nizhny Novgorod. He started 2019 in Paris, and moved to Mega Bemax on December 18th.
As he agreed on cooperation with Cedevita Olimpija, Perry told: "I am very happy to have become part of Cedevita Olimpija, and to be able to help the club and the whole organization to the best of my ability. I am also happy with the fact that I am completely healthy and ready for the new challenges that the competitions in the ABA League and in Europe bring in the upcoming competition season."
--------------------
Kendrick Perry okrepil Cedevita Olimpijo
Cedevita Olimpija bo prihodnjo sezono na položajih organizatorja igre in branilca močnejši za ameriškega košarkarja, Kendricka Perryja.
Cedevita Olimpija je začela s sestavo moštva za prihajajočo tekmovalno sezono 2020/21. Prva okrepitev ljubljanskega moštva je izjemni branilec iz Združenih držav Amerike, Kendrick Perry. Slovenski košarkarski navdušenci so imeli v minuli sezoni Perryja priložnost spremljati v dresu beograjske Mege Bemax, pred tem pa je nosil dres Metropolitansev iz Pariza. Perry bo v Zmajevem gnezdu nastopal v sezoni 2020/21.
V sezoni 2019/20 je bil Kendrick Perry s povprečjem 18,5 točke na tekmo igralec z najvišjim povprečjem doseženih točk v Ligi ABA, za Mego Bemax pa je zaigral na desetih tekmah rednega dela sezone. Na teh desetih obračunih je Perry enkrat uspel preseči mejo 30 točk (v 15. kolu proti Crveni zvezdi mts; 31 točk), še trikrat pa je presegel mejo 20 točk. K svojemu točkovnemu izkupičku je dodajal še 6,2 asistence in 3,7 skoke na obračun.
Na košarkarski zemljevid se je Perry postavil po tem, ko je štiri leta preživel na kolidžu Youngstown State, in po tem, ko leta 2014 ni bil izbran na naboru Lige NBA, se je za čas poletne Lige NBA pridružil Orlando Magic. Sezono 2014/15 je začel kot član Sydney Kings, sklenil pa v dresu moštva Iowa Energy v razvojni Ligi NBA. Sledile so sezone, ki jih je preživel v dresih Kormenda, Karpoš Sokolov, Szolnoki Olaja in Nižnega Novgoroda. Leto 2019 je začel v Parizu, in se 18. decembra preselil k Megi Bemax.
Kendrick Perry je ob dogovoru o sodelovanju z Ljubljančani povedal naslednje: "Zelo vesel sem, da sem postal del Cedevite Olimpije, in da bom lahko klubu in celotni organizaciji pomagal po svojih najboljših močeh. Veseli me tudi dejstvo, da sem povsem zdrav in pripravljen na nove preizkušnje, ki jih prinašata tekmovanji v Ligi ABA in v evropskem prostoru v prihajajoči tekmovalni sezoni."