Alen Hodžić moves to Ljubljana
Friday, 29. May 2020 at 11:39
Cedevita Olimpija is stronger for Alen Hodžić, who moves to Ljubljana from Koper, where he played for Koper Primorska for the last three years very successfully.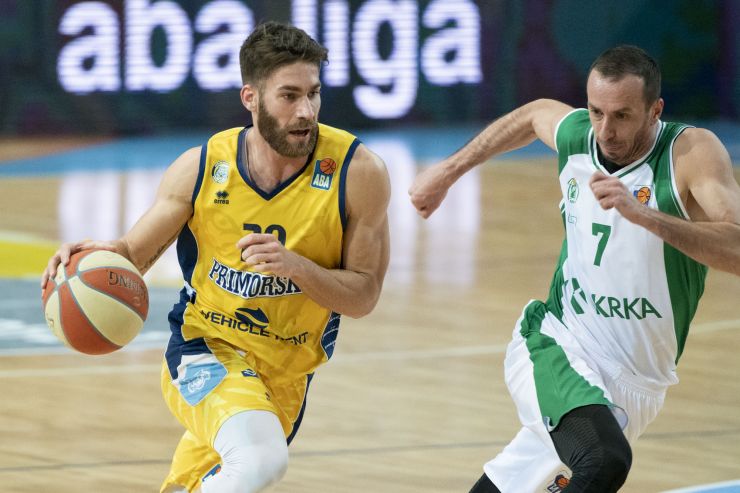 Alen Hodzic (Photo: Koper Primorska/Ziga Mikeli)
Alen Hodžić, a sniper from Koper who is also known as an uncompromising player on both sides of the floor, is coming to Ljubljana. The Slovenian national team player has signed a two-year contract with Cedevita Olimpija, and Alen has already joined the Dragons' training in Stožice.
The 27-year-old Hodžić stepped on the floor in 21 ABA League regular season games and averaged 9.3 points, 2.0 assists and 2.5 rebounds per game in 27.5 minutes per game.
Alen Hodžić started his career in his hometown of Koper, where he played in all generations of ŠD Koš Koper. He competed in the Koš jersey for the first time in the member competition in 2009, and in 2011 he moved to Ljubljana's Parklji and played in the 1. SKL for the first time. He spent the 2012/13 season with Domžale's Helios Suns, and in the summer of 2013 he moved to Portorož. In 2016, he transferred to Hopsi Polzela for one season, then in 2017 he returned to his hometown Koper and wore the Koper Primorska jersey until the end of the 2019/20 season. Hodžić was also the captain of the Koper 'Tigers' team.
Hodžić has won many laurels with Koper in the last two years, during which time he has successfully collaborated with the head coach of the Dragons, Jurica Golemac. In his biography, Alen has the title of Slovenian national champion (2019), three titles of Slovenian cup champion (2018, 2019, 2020), two titles of Slovenian super cup champion (2018, 2019) and the title of ABA League 2 champion.
As he agreed on cooperation with the Ljubljana side, Hodžić told: "I am very happy to have joined Cedevita Olimpija. I know the game system of head coach Jurica Golemac, so I think and hope that I will not have any problems in helping the squad on the court. I already know many teammates from the national team campaign, and I have already shared my locker room with some of them. I can't wait for the games to start, I can't wait to meet the fans, and at the same time I'm looking forward to the start of the new competition season. On this occasion, I would also like to thank Koper Primorska for the three seasons I spent on the Coast."
--------------------
Alen Hodžić iz Kopra v Ljubljano
Cedevita Olimpija v novo tekmovalno sezono vstopa okrepljena s slovenskim reprezentantom, Alenom Hodžićem. Slednji se v Ljubljano seli po tem, ko je tri sezone več kot uspešno nosil dres Kopra Primorske.
V Ljubljano prihaja koprski ostrostrelec, ki slovi tudi kot zagrizen in nepopustljiv košarkar na obeh straneh parketa, Alen Hodžić. Slovenski reprezentant je s Cedevito Olimpijo podpisal dveletno pogodbo, Alen pa se je že pridružil treningom Zmajev v Stožicah.
27-letni Hodžič je v sezoni 2019/20 v Ligi ABA na parket stopil na 21 tekmah rednega dela sezone in beležil 9,3 točke, 2,0 asistenci in 2,5 skoke na tekmo v 27,5 minutah na obračun.
Alen Hodžić je svojo košarkarsko kariero začel v domačem Kopru, kjer je prestal vse generacije ŠD Koš Koper. V članski konkurenci se je v dresu Koša prvič preizkusil leta 2009, leta 2011 pa se je preselil v ljubljanske Parklje in prvič zaigral v 1. SKL. Sezono 2012/13 je preživel pri domžalskih Helios Suns, poleti 2013 pa se je preselil v Portorož. Leta 2016 je za eno sezono prestopil k Hopsem s Polzele, nato pa se leta 2017 vrnil v domači Koper in vse do zaključka sezone 2019/20 nosil dres Koper Primorske. Hodžić je bil tudi kapetan moštva koprskih 'tigrov'.
S Koprčani je Hodžić v zadnjih dveh letih osvojil številne lovorike, v tem času pa je uspešno sodeloval z glavnim trenerjem Zmajev, Jurico Golemcem. Alen ima v svoji biografiji naslov slovenskega državnega prvaka (2019), tri naslove slovenskega pokalnega prvaka (2018, 2019, 2020), dva naslova slovenskega superpokalnega prvaka (2018, 2019) in naslov prvaka Lige ABA 2.
Ob dogovoru z Ljubljančani je Hodžić povedal: "Zelo vesel sem, da sem se pridružil Cedeviti Olimpiji. Poznam sistem igre glavnega trenerja Jurice Golemca, zato menim in upam, da ne bom imel težav pri tem, da se vklopim v moštvo. Številne soigralce poznam že iz reprezentančne akcije, z nekaterimi pa sem tudi že delil garderobo. Komaj čakam tekme, komaj čakam, da spoznam navijače, hkrati pa se veselim začetka nove tekmovalne sezone. Ob tej priložnosti pa se želim zahvaliti tudi Koper Primorski za tri sezone, ki sem jih preživel v klubu."