Koper Primorska parted ways with Žiga Dimec
Friday, 29. May 2020 at 11:11
Besides Alen Hodžić, who has already agreed on cooperation with Cedevita Olimpija, Žiga Dimec is also leaving Koper. It has not yet been revealed where the latter would continue his career.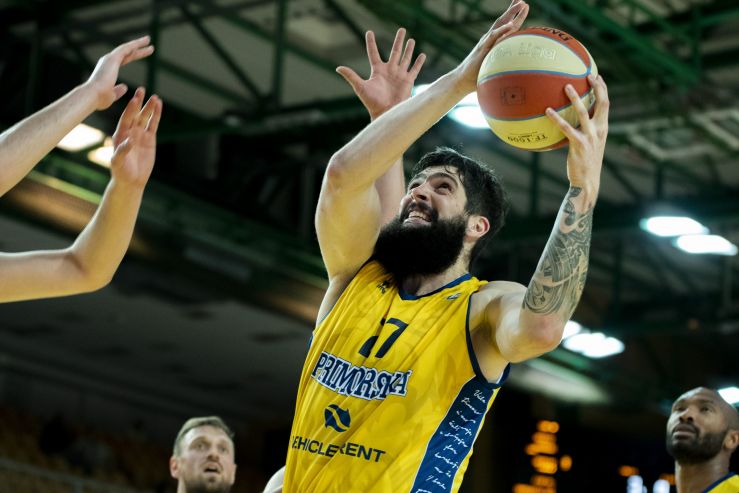 Ziga Dimec (Photo: Koper Primorska/Ziga Mikeli)
Žiga Dimec, long time Slovenia national team member has agreed with the Koper side for contract termination. Dimec arrived to Koper at the start of the 2019/20 season and helped the club to won Slovenian Super Cup and Slovenian National Cup.
His presence was of key importance for the team in the ABA League, where he averaged 6.7 points and 3.6 rebounds, while spending 14.7 minutes per game on court.
---------------------
Koper Primorska končuje skupno pot z Žigo Dimcem
Koper Primorsko poleg Alena Hodžića, ki se je dogovoril za sodelovanje s Cedevita Olimpijo, zapušča tudi slovenski reprezentant Žiga Dimec. Kje bo slednji nadaljeval svojo kariero še ni znano.
Žiga Dimec, dolgoletni slovenski reprezentant, se je s klubom dogovoril za prekinitev pogodbe. Dimec je v Koper prišel na začetku pretekle sezone 2019/2020 in klubu z izkušnjami pomagal osvojiti Superpokal Slovenije in Pokal Slovenije. Njegova prisotnost pod obročem je bila ključna v sezoni Lige ABA, kjer je na parket stopil povprečno 14,7 minut na tekmo in dosegal 6,7 točke in 3,6 skoke.