Codi Miller-McIntyre is the new Partizan NIS reinforcement
Wednesday, 01. July 2020 at 10:43
Former Cedevita Olimpija and Zenit St. Petersburg player will be playing at Partizan NIS next season.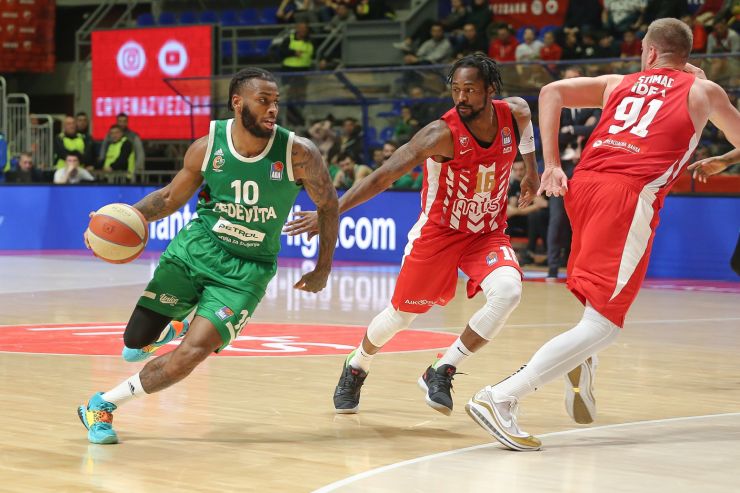 Codi Miller-McIntyre (Photo: Crvena zvezda mts/Djordje Kostic)
Former Cedevita Olimpija player Codi Miller-McIntyre is the new Partizan NIS player. American guard was born on 1 June 1994 in North Carolina and has graduated at Wake Forest University.
He started his senior career in Belgium, where he used to be the top scorer and passer of the league in 2017, playing for Leuven. He was also the top passer of the VTB League afterwards, playing for Parma. Then he moved to Dallas Mavericks and Texas Legends, Zenit St. Petersburg and Cedevita Olimpija, for which he averaged 14 points and 5.1 assists in the ABA League.
Codi Miller-McIntyre is expected to join the black and white squad at the start of the training camp for the 2020/21 season.
--------------------
Kodi Miler-Mekintajer je novo pojačanje crno-belih
Bivši košarkaš Cedevita Olimpije i Zenita iz Sankt Peterburga, igraće naredne sezone u dresu Partizana.
Doskorašnji igrač Cedevita Olimpije, Kodi Miler Mekintajer, novi je košarkaš Partizana NIS. Američki bek, rođen je 1. juna 1994. godine u Severnoj Karolini, a diplomirao je na Vejk Forest Univerzitetu 2016. godine.
Seniorsku karijeru, započeo je u Belgiji, gde je nastupajući za Leuven bio najbolji strelac i prvi asistent lige 2017. godine. Miler-Mekintajer je potom igrao za rusku Parmu gde je sa 8,2 asistencije po meču bio prvi asistent VTB lige, zatim razvojni tim Dalas Mevriksa u "G" ligi, Zenit is Sankt Peterburga i Cedevita Olimpiju u kojoj je minule sezone imao prosek od 14 poena i 5,1 asistencije u ABA ligi.
Miler-Mekintajer će se crno-belima priključiti na početku priprema za sezonu 2020/21.