Krka wish to escape the bottom, Cedevita to keep their second place
Friday, 01. March 2019 at 11:59
On Saturday night, an extremely important game for both sides is coming up in Novo mesto, as Krka will be hosting Cedevita in their Leon Štukelj Sports Hall.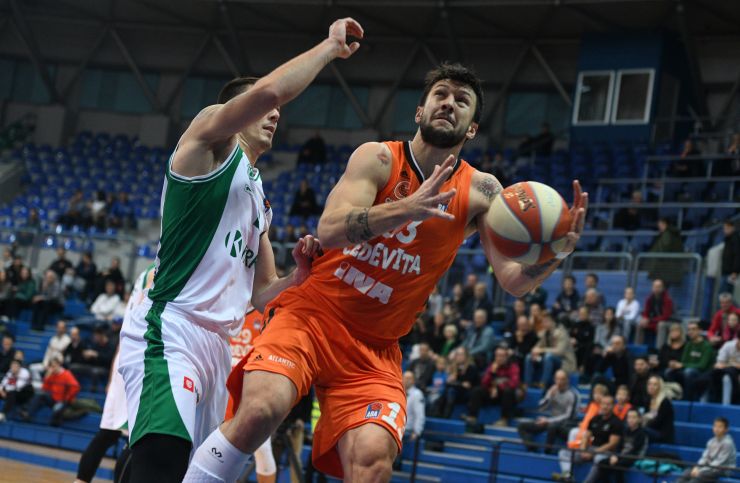 Andrija Stipanovic (Photo: Cedevita/Marin Susic)
ABA League Round 20, Saturday, 2.3.2019:
Where? Laktaši Sports Hall, Laktaši
When? 19:00
Story of the game: Another big night is coming up for Novo mesto basketball fans, as another regional basketball powerhouse is coming to town – Cedevita will be the guests of Krka in Leon Štukelj Sports Hall.
In will be an exceptionally important clash for both teams, since Krka are currently placed at the very bottom of the ABA League standings and desperately need a win, which will for sure not be an easy task in order to escape the last place. On the other side, Cedevita are currently battling for home court advantage in the Playoffs and for sure they will do everything in their power in order to win and to protect their second place in the standings.
Even though things in the standings are clear in terms of the power rankings between the two sides this season, it's always difficult to predict the outcome when these two teams are playing in Novo mesto. In the entire regional league history, Cedevita have celebrated 4 times against Krka in Novo mesto, while Krka celebrated 3 times.
And what about current shape of both teams? Krka are on a 2 games long winless streak and Cedevita are on 3 games long winning streak.
Match-up in focus: Since he joined Krka, Dominik Mavra has demonstrated that he can be one of the true leaders of his team. He has been topping Krka's squad in points (14) and assists (6) per game. However, proving his qualities once again will not be the easiest task ever for him this time around against Cedevita, as he will have to face arguably one of the best point guards of the competition. Jacob Pullen is currently the top scorer of Cedevita (17.6 points per game) and third passer of his team (2 assists per game).
Head to head in the regional league: In total 5:10; In Novo mesto 3:4.