Stefan Fundić pens a 1-year deal with Zadar
Wednesday, 11. September 2019 at 12:49
Former player of Mega Bemax will continue his career in Zadar.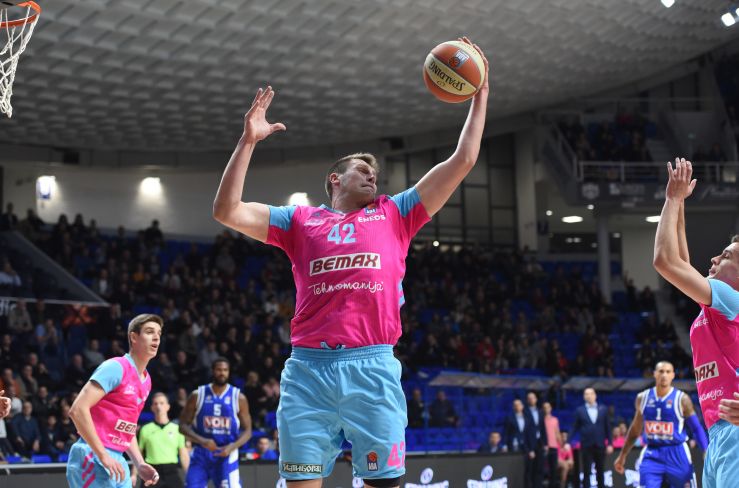 Stefan Fundic (Photo: Buducnost VOLI)
It is official! Zadar announced that they have signed a 1-year deal with Stefan Fundić. This 25-year old power forward spent the previous two seasons in Mega Bemax and was one of the best players of the Belgrade team.
Fundić averaged 7.1 points, 5.3 rebounds and 1.1 assists per game in the 2018/19 ABA League season.
Stefan Fundić started his pro career in Beovuk 72 in 2014 and has remained in this team until 2017. Then he had a short episode in Vršac, for which he played in the 2016/17 Serbian Championship, before moving to Mega Bemax in the summer of 2017.
He will join his new teammates from Zadar in the next couple of days.
---------------
Stefan Fundić potpisao za Zadar
Novo pojačanje u Košarkaškom klubu Zadar je Stefan Fundić.
25-godišnji igrač porijeklom iz Beograda posljednje dvije godine proveo je upravo u Megi Bemax, koja je nakon regularnog dijela protekle sezone s 10 pobjeda i 12 poraza završila kao petoplasirana momčad ABA lige.
Fundić je svojoj, sada već bivšoj momčadi, pritom pomogao s ukupnih 7.1 poena, 5.3 skoka i 1.1 podijeljenom asistencijom u odigranih 22. kola regionalne lige.
199 centimetara visoki centar treće je strano ime u momčadi Ante Nazora uz Bryona Allena i Jamesa Farra (Dominic Gilbert; dvojno državljanstvo), a ugovor s KK Zadar je potpisao na godinu dana.
Prošle sezone u oba susreta protiv Zadrana zabilježio je 6, odnosno 7 poena u prosječno 16 minuta provedenih na parketu.
Prvi ozbiljniji košarkaški put započeo je 2014. u drugoligaškom klubu Beovuk 72 iz Beograda, a nakon tri sezone, točnije 2017. godine preselio je u redove KK Hemofarma iz Vršca, gdje je odigrao samo jednu sezonu prije nego li se priključio Megi.
Igrač će se kroz nekoliko dana priključiti treniranju s momčadi, a uskoro će na tiskovnoj konferenciji biti predstavljen i javnosti.