#ABAMemories: Union Olimpija the first to grab the ABA League trophy
Tuesday, 24. March 2020 at 11:00
24 March is the day, that all of the Ljubljana basketball fans will forever carry in their hearts with a sweet memory of the day, that their team has won the ABA League trophy as the first team in the history of the competition.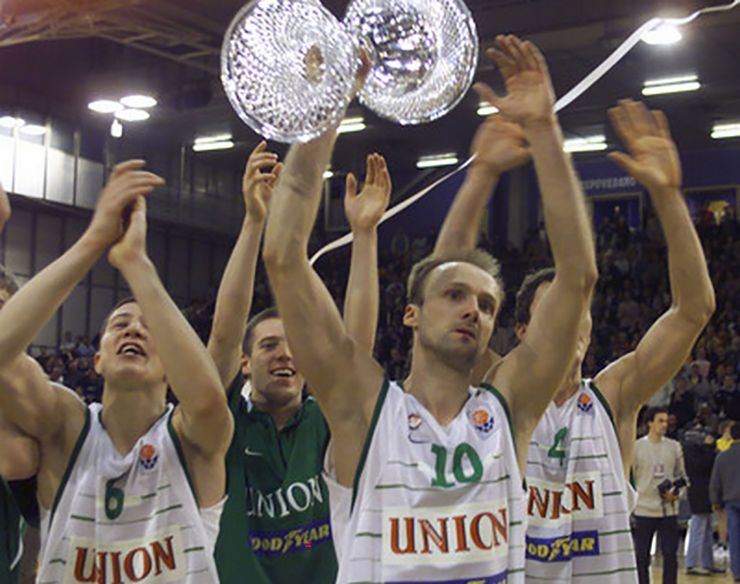 (Photo: Cedevita Olimpija)
The 2001/02 season was the season when ABA League competition entered in their first ever season and, eventually in the end, the regional basketball got its first champions.
Union Olimpija, led by head coach Zmago Sagadin from the bench has written history as the first ever team that has lifted the ABA League trophy.
In Tivoli Sports Hall in Ljubljana, the green and white of the Slovenian capital, with the star-packed roster composed of current Cedevita Olimpija head coach Jurica Golemac and his teammates, Jure Zdovc, Beno Udrih, Jiri Welsch, Vlado Ilievski, Vladimer Boisa, Stipe Modrić, Tunji Awojobi, Nedin Dal, Haris Mujezinović, Jasmin Hukić and Vujadin Subotić, have prevailed over Krka in the Final Four Tournament Final, with the final score of 73:59.
For the first ever ABA League champions, Jure Zdovc led the way in scoring with 22 points, while Jiri Welsch added 17 points and Haris Mujezinović 14. On the other side, Jaka Lakovič scored 12 points for Krka, while Marko Šamanić added 11 and Mate Skelin 10.
On the way to the Final, Union Olimpija have prevailed over Pivovarna Laško with the score of 69:56, while they have also finished the Regular Season atop of the standings, with 20 victories out of 22 games, ahead of Krka, Cibona and Pivovarna Laško.
Until today, this remains the only ABA League trophy for the Ljubljana squad, which has also appeared at six more final tournaments – in the seasons 2002/03 (eliminated by Maccabi in the Semi-finals), 2003/04 (eliminated by Cibona VIP in the Semi-finals), 2004/05 (eliminated by FMP Reflex in Quarter-finals), 2007/08 (eliminated by Partizan Igokea in the Semi-finals), 2009/10 (eliminated by Cibona in the Semi-finals) and 2010/11 (eliminated by Partizan in the Final).
2001/02 ABA League Final, 24 March 2002:
UNION OLIMPIJA – Krka 73:59 (20:16, 14:14, 24:19, 15:10)
Union Olimpija scorers: Welsch 17, Golemac 4, Ilievski 1, Boisa, Modrić, Udrih 4, Zdovc 22, Awojobi 6, Dal, Mujezinović 14, Hukić 5, Subotić.
Krka scorers: Gnjidić 5, Skelin 10, Lakovič 12, Jelesijević, Davison 4, Grum 3, Drobnjak 7, Mirković, Ćapin, Šamanić 11, Brewer 7.