Cedevita Olimpija grab their first trophy of the season
Thursday, 17. September 2020 at 23:01
Cedevita Olimpija squad has started the new season in the best possbile way and won its ninth Slovenian Super Cup trophy in the entire hsitory. They have beaten Krka 78:67.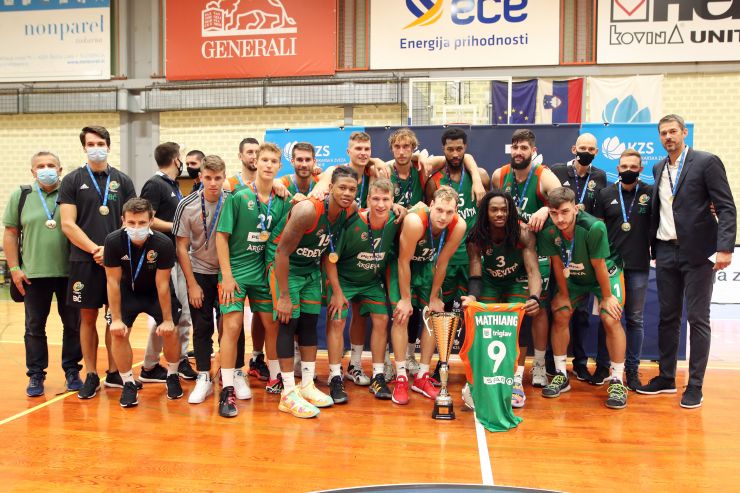 (Photo: Cedevita Olimpija/Ales Fevzer)
The Dragons of Ljubljana have became the Slovenian Super Cup Winners for the ninth time in history and first under the name Cedevita Olimpija. Jurica Golemac's squad has beaten Krka in the season opener 78:67 and returned the Super Cup trophy to its cupboard. Their last trophy came in 2017 in Tivoli.
Cedevita Olimpija has deservedly won its ninth Slovenian Super Cup trophy deservedly, as it has been in front throughout the game. After they went up by 7 points in the opening quarter (22:15, they have earned themselves the first double-digit lead midway through the second quarter, when the scoreboard has shown the score 31:21. Krka squad tried hard to win their way back in the game for the win, but unsuccessfully.
For Cedevita Olimpija Kendrick Perry led the way in scoring with 20 points, while Jaka Blažič added 18. For Krka Rok Stipčević had 19 points and Vasilije Vučetić 12.
Slovenian Super Cup, Thursday, 17.9.2020:
Krka – CEDEVITA OLIMPIJA 67:78 (15:22, 15:19, 22:17, 15:20)
Stipčević 19, Vučetić 12 | Perry 20, Blažič 18.