Zvezda down Mornar to keep the perfect score
Sunday, 18. October 2020 at 19:59
Another powerful performance by the red & whites who triumphed in this week's ABA League match of the round.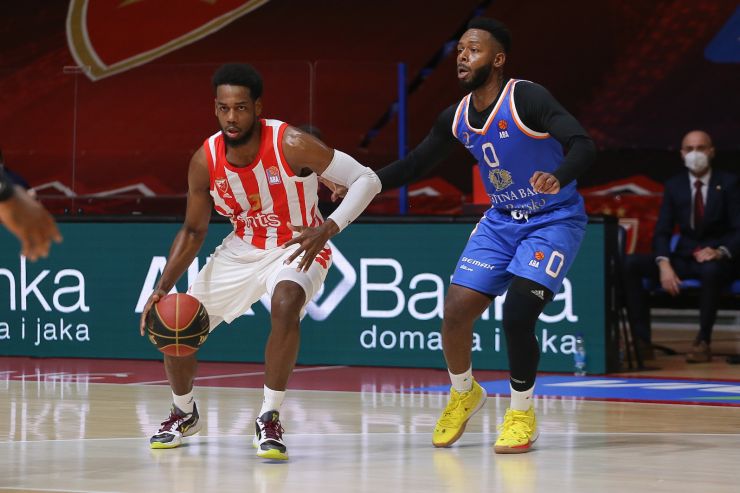 Jordan Loyd (Photo: Crvena zvezda mts)
ABA League Round 3, Sunday, 18 October 2020:
CRVENA ZVEZDA MTS - Mornar 93:62 (24:23, 22:13, 21:11, 26:15)
Game recap: Crvena zvezda mts look really impressive at the start of the new season. The red & whites have scored all 3 wins so far in the 2020/21 ABA League campaign, while this last one came in this week's match of the round against Mornar.
The Belgrade team have been in front throughout the whole game, while their head coach Saša Obradović will especially be pleased with the performance of the club's latest signings - Taylor Rochestie and Emanuel Terry. In their first game for Crvena zvezda mts in this season, Rochestie had 7 points and 7 assists, while Terry had 6 points and 7 rebounds.
Crvena zvezda mts now have the overall score of 3-0, while Mornar are at 2-1.
Key moments: Only the first quarter was close as Zvezda were up by just one point after the opening 10 minutes – 24:23. After that, the home side increased the pace and the away team just were not able to follow. Crvena zvezda mts have gained a double digit lead until the halftime, while they have increased the gap to 28 points by the middle of the 3rd quarter. At that point it was quite clear that the home team would take the win.
Man of the match: Jordan Loyd is simply unstoppable in this season. He was once again the top scorer of Crvena zvezda mts with 16 points, while he also added 4 rebounds and 7 assists. His overall index rating was 23.
Can't trick the stats: Crvena zvezda mts had 15 rebounds and 9 assists more than Mornar, while on top of that the visiting side made too many turnovers. At the end of the game, Mornar had 26 turnovers in their team stats.