Phil Booth new Budućnost VOLI player
Thursday, 14. July 2022 at 19:55
American player Phil Booth, who used to play for the Belgian squad Oostende is the new player of Podgorica squad.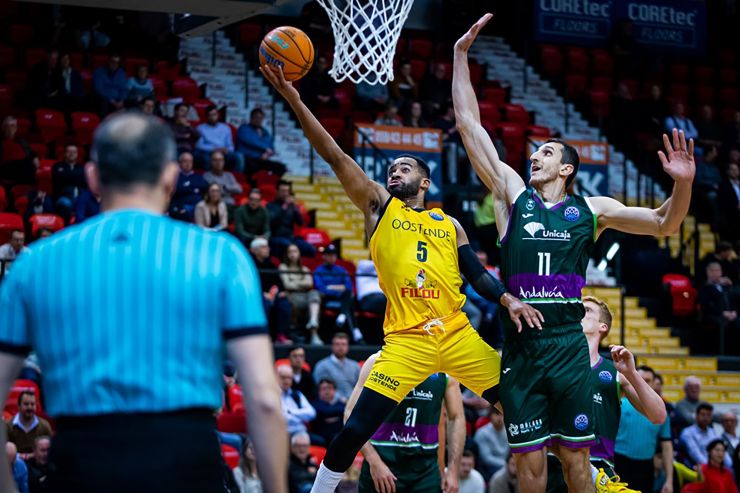 (Photo: FIBA)
Phil Booth is a 26-year old player, that can play a combo guard. He is 188 cm tall and born in Baltimore.
He played his college career at the Villanova University. He became the Wildcats' legend, putting in more than 1500 points, while delivering more than 300 assists. With 148 games played he became the second-best player in the Villanova University history in the number of games played.
In the NCAA he won two trophies, especially shining in the 2016 Final, when he scored 20 points against North Carolina and was the most deserved player of his team on the road to the title.
After finishing his college career, he spent two seasons in the G League, firste at Capital Go Go and afterwards in Oklahoma Blue City.
Last season he moved to Europe and signed with Oostende, with which he qualified for the Top16 of the Basketball Champions League and won the Belgian National Championship trophy. He has been averaging 13.6 points, while adding 3.7 rebounds and 3.3 assists per game in all competitions combined.
--------------------
Fil But novi igrač Budućnost Volija
Američki košarkaš, Fil But, koji je prošle godine nastupao za belgijski Ostende, novi je igrač podgoričkog tima.
Riječ je o dvadesetšestogodišnjem igraču koji igra kombo beka i koji je visok 188cm, a rođen je u Baltimoru.
Nakon srednje škole u Maunt Seint Džozefu, gdje je bio proglašen za najboljeg košarkaša grada Baltimora, dobio je stipendiju od jednog od najboljih košarkaških programa u zemlji - Univerziteta Vilanova.
But će da postane legenda "Divljih mačaka" a ubacio je preko 1.500 poena i podijelio preko 300 asistencija. Sa 148 odigranih utakmica drugi je na vječnoj listi Vilanove po broju odigranih utakmica.
U NCAA ligi osvojio je dvije titule, a posebno se istakao u finalu 2016. godine kada je protiv Sjeverne Karoline ubacio 20 poena i bio najzaslužniji za trofej svog tima.
Nakon koledž karijere igrao je dvije sezone u razvojnoj NBA ligi, prvo u timu Kapital Go Go (Vašington Vizards), a onda i u Oklahoma Blu Siti (Oklahoma Siti Tander).
Prošle godine se odlučio za Evropu i potpisao je za tim Ostendea sa kojima stiže do Top16 faze Fiba Lige Šampiona i osvaja belgijsku ligu. U prosjeku u svim takmičenjima je postizao 13.6 poena uz 3.7 skokova, 3.3 asistencije i 39% šuta za tri poena.