Leon Šantelj is the new Zadar player
Friday, 22. July 2022 at 18:26
Leon Šantelj is the new player of Zadar. After Baldwin, Ramljak and Lakić, 27-year old former Helios Suns player singed a deal with the Dalmatian side.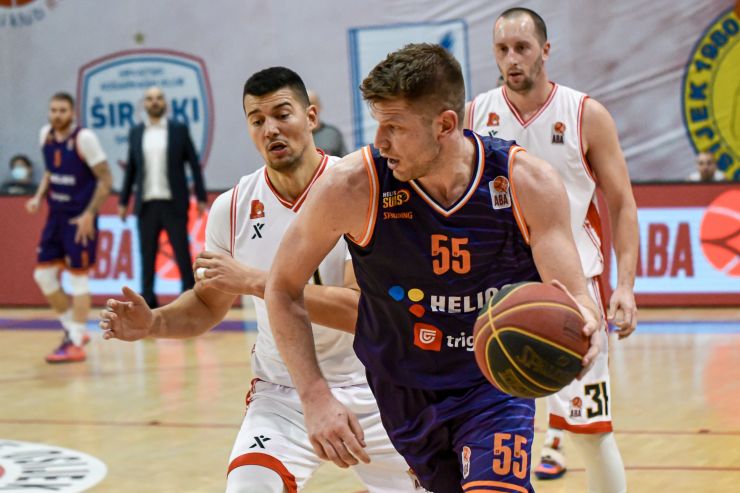 Leon Santelj (Photo: ABA League 2/Dragana Stjepanovic)
Leon Šantelj used to play for UKK Koper, Helios Suns, Rogaška and Prostejov. For the majority of his career he has been playing in the Slovenian basketball courts for Helios Suns, with which he has been competing in the NLB ABA League 2 in the previous season. He has appeared in 14 games for the Helios Suns last season in the NLB ABA League 2, averaging 13.5 points, 4.6 rebounds, and 1.7 assists per game. He played his best game against Lovćen 1947, when he had 27 points alongside 12 rbounds.
Zadar and the 205 cm tall center have signed a one-year contract.
--------------------
Leon Šantelj je novi igrač Zadra
Leon Šantelj novi je igrač Zadra. Nakon Baldwina, Ramljaka i Lakića potpis na ugovor sa Zadrom stavio je i 27-godišnji Slovenac.
Leon je do sada branio boje UKK Koper, Helios Suns, Rogaške, i Prostejova. Prošle sezone boravio je kao i veći dio karijere u Sloveniji, igrajući NLB ABA 2 ligu za Helios Suns u koji ga je životni i košarkaški put nanio više puta.
Odigrao je prošle sezone 14 utakmica za Suns u NLB ABA Ligi 2, a prosječno je ubacivao 13.5 koševa uz 4.6 skokova po utakmici. Najbolju utakmicu odigrao je protiv cetinjskog Lovćena kada je ubacio 28 poena uz 12 skokova.
Ugovor sa 205-centimetara visokim krilinim centrom i centrom potpisan je na godinu dana.