Josh Adams is coming to Cedevita Olimpija
Saturday, 30. July 2022 at 11:41
At the shooting guard position, Cedevita Olimpija will be strengthened in the forthcoming season by the attractive player Josh Adams, who has experience playing in the Euroleague and EuroCup, and in the season that is behind us, he played in Australia, Tasmania to be exact.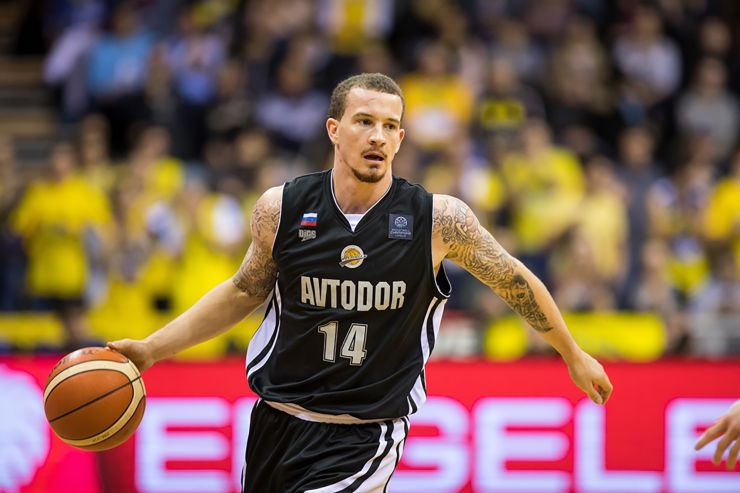 (Photo: FIBA)
Before the start of the 2022/23 season, Cedevita Olimpija has strengthened its position of shooting guard with Josh Adams. The latter comes to Ljubljana after spending last season in Australia, while the season before he used to be a member of Italian side Virtus of Bologna. Adams also has experience playing in the Euroleague, in which he competed in the jersey of Turkish Anadolu Efes.
"I'm grateful and excited to be a part of Cedevita Olimpija. I cannot wait to get to Ljubljana to meet my teammates, and to begin the season. I'm very excited to be a part of such a great organization with great fans and I can't wait to meet everyone. See you soon," said Josh, who is coming back to Europe after a great season in Australia.
Josh Adams spent his collegiate career at the University of Wyoming, and after going undrafted in the 2016 NBA Draft, he spent the summer with the Denver Nuggets before signing with Avtodor Saratov at the end of July. After one season of playing in Russia, his career led him to Anadolu Efes, where he played in the Euroleague, but he only stayed in Efes until January 2018, when he moved to Beşiktaş and finished the season there.
This was followed by a move to China to the Shanxi Brave Dragons team, and in January 2019 he moved to the NBA Development League to the Raptors 905 team. In the summer of the same year, he signed a contract with Unicaja from Malaga, then moved to Italy's Virtus Segafredo Bologna before the start of the 2020/21 season. After playing one season in Bologna, where he also won the title of Italian national champion, he joined the Australian team Tasmania JackJumpers before the start of last season.
In the Euroleague, Adams played in 16 matches in the Efes jersey, eight of which he started in the starting five of the Turkish team. He averaged 7.0 points, 2.0 assists and 1.6 rebounds per contest. In the 2021/22 season, he played in 34 games in the Australian League and averaged 27.7 minutes per game, while achieving 16.6 points, 3.3 rebounds, 2.1 assists and 1.0 steals per match.
--------------------
Josh Adams prihaja v Cedevita Olimpijo
Na položaju branilca bo Cedevito Olimpijo v prihajajoči sezoni okrepil atraktivni Josh Adams, ki ima izkušnje z igranjem v Evroligi in 7DAYS EuroCupu, v sezoni, ki je za nami, pa je igral za avstralsko ekipo Tasmania JackJumpers.
Cedevita Olimpija se je pred začetkom tekmovalne sezone 2022/23 na položaju branilca okrepila z Joshom Adamsom. Slednji v Ljubljano prihaja po tem, ko je minulo sezono preživel v Avstraliji, sezono poprej je bil član italijanskega Virtusa iz Bologne, s katerim je osvojil tudi naslov italijanskega državnega prvaka. Adams ima izkušnje tudi z igranjem v elitni Evroligi, v kateri je nastopal v dresu turškega Anadolu Efesa.
"Hvaležen in navdušen sem, da sem del Cedevite Olimpije. Komaj čakam, da pridem v Ljubljano, da se srečam s soigralci in začnemo z novo sezono. Navdušen sem, da sem del tako odlične organizacije z odličnimi navijači, in komaj čakam, da spoznam vse. Se vidimo kmalu," je povedal Josh Adams, ki se tako po sezoni, ki jo je preživel na Tasmaniji, vrača v Evropo.
Svojo univerzitetno pot je Josh Adams preživel na Univerzi Wyoming, po tem, ko leta 2016 ni bil izbran na naboru Lige NBA, pa je poletje preživel v dresu Denver Nuggets, nato pa konec julija podpisal pogodbo z ruskim klubom Avtodor Saratov. Po eni sezoni igranja v Rusiji ga je kariera vodila v turški Anadolu Efes, kjer je zaigral v Evroligi, a v Efesu ostal le do januarja 2018, ko se je preselil v Bešiktaš in tam dokončal sezono.
Sledila je selitev na Kitajsko k ekipi Shanxi Brave Dragons, v januarju 2019 pa se je preselil v razvojno Ligo NBA k moštvu Raptors 905. Poleti istega leta je podpisal pogodbo z Unicajo iz Malage, kjer je v španskem državnem prvenstvu dosegal 12,9 točke, 2,2 skoke in 2,2 asistence na obračun, nato pa se je pred začetkom sezone 2020/21 preselil v italijanski Virtus Segafredo Bologna. Po eni sezoni igranja v Bologni, kjer je osvojil tudi naslov italijanskega državnega prvaka, se je pred začetkom minule sezone pridružil avstralski ekipi Tasmania JackJumpers.
V elitni Evroligi je Adams v dresu Efesa zaigral na 16 tekmah, osem jih je začel v udarni peterki turškega kolektiva. V povprečju je dosegal 7,0 točke, 2,0 asistence in 1,6 skoke na dvoboj. V sezoni 2021/22 je v avstralski ligi na parket stopil na 34 tekmah, in v povprečju beležil 27,7 minute na tekmo, v tem času pa dosegal 16,6 točke, 3,3 skoke, 2,1 asistence in 1,0 pridobljene žoge na tekmo.