Vladimir Jovanović new Igokea m:tel head coach
Tuesday, 17. January 2023 at 19:43
At the Igokea m:tel board meeting a decision has been made to accept the resignation by the head coach Dragan Bajić. Igokea m:tel Board has decided to replace him with Vladimir Jovanović.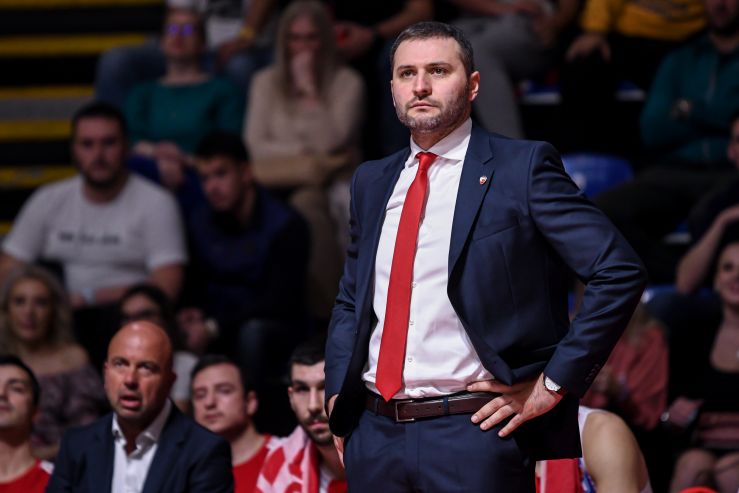 Vladimir Jovanovic (Photo: ABA League j.t.d./Dragana Stjepanovic)
The Igokea m:tel management expect from the new head coach Vladimir Jovanović to demonstrate his qualities and potential, working as head coach at their club.
He started his coaching career as a youth categories coach in 2012 and during the three season in his first season as senior basketball head coach, he made a success story with FMP Meridian (2017-20) and established himself as one of the best young head coaches in the competition.
Afterwards he moved to Cibona, where a couple of young players made their mark under his guidance. During 2019, he has been chosen to become one of the assistants of the head coach of Serbia Senior National Team, under the guidance of Igor Kokoškov, while he is currently the head coach of U20 Serbia National Team.
Vladimir Jovanović is coming to Laktaši after his episode at Crvena zvezda Meridianbet.
--------------------
Vladimir Jovanović novi trener Igokee m:tel
Na sastanku uprave kluba Igokea m:tel usvojena je ostavka trenera Dragana Bajića.
Uprava Igokea m:tel je donijela odluku da za novog šefa stručnog štaba postavi Vladu Jovanovića, a od novog trenera očekuje da pokaže sve svoje kvalitete i potencijal kao trener.
Vlada Jovanović je trener prve trenerske korake napravio je kao stručnjak mlađih selekcija Crvene zvezde još 2012. godine, a tokom tri sezone u prvom samostalnom poslu u FMP Meridianu (2017-2020) bio je jedno od velikih iznenađenja cijele ABA lige i novo ime među domaćim mladim trenerima koji je na sebe skrenuo pažnju.
Nakon toga sa vrlo mladom ekipom Cibone, kao prvi srpski trener u Hrvatskoj u poslednjih 30 godina promovisao je nekoliko talentovanih mladih igrača tog kluba. Tokom 2019.godine izabran je za jednog od pomoćnika selektora A reprezentacije Srbije pod vođstvom Igora Kokoškova, a trenutno je selektor reprezentacije za igrače do 20 godina. Na tom mjestu je od decembra prošle godine. Smatra se za jednog od najtalentovanijih trenera mlađe generacije iz Srbije.
Vlada Jovanović je trener koji u Laktaše dolazi poslije angažmana u Crvenoj zvezdi Meridianbet.