Budućnost VOLI are the new ABA League champions
Saturday, 14. April 2018 at 21:00
Budućnost VOLI have won another thriller in the ABA League Finals, finished the Game 4 victoriously and celebrated their maiden ABA League trophy.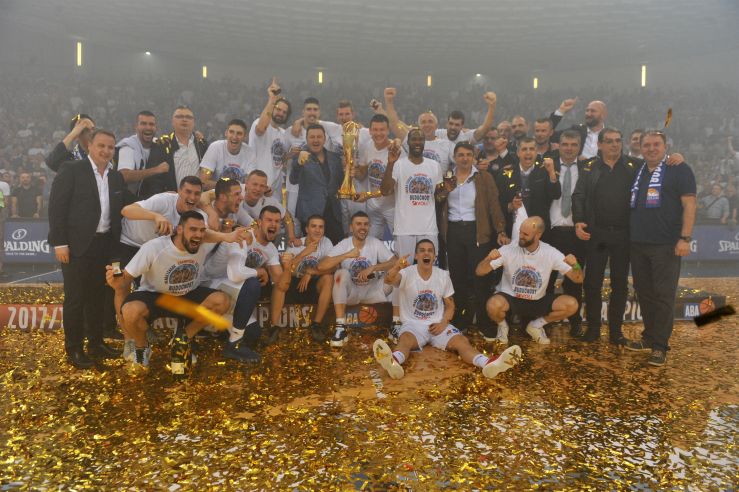 Buducnost VOLI team (Photo: Buducnost VOLI)
ABA League Finals Round 4, Saturday, 14.4.2018:

BUDUĆNOST VOLI – Crvena zvezda mts 77:73 (22:15, 14:23, 24:19, 17:16)

Game recap: For the first time ever in the regional league history, Budućnost VOLI of Podgorica celebrate the championship trophy! The blue and white have beaten Crvena zvezda mts for the third time in the ABA League finals in Game 3 and won the series 3:1. And they did it the sweetest way possible for them and their fans – with a comeback in the final minutes in a thrilling finish!

Key moments: Budućnost VOLI have literally grabbed the championship trophy in the dying moments of the game. With a minute and a half, Zvezda still held a 70:68 lead, but then Filip Barović tied it from the free throw line and Nikola Ivanović was the one to make a steal and a layup on fast break with a bit more than a minute remaining for the 72:70 lead for Budućnost VOLI. He added another bucket with half a minute remaining to increase the lead to 74:70 and at that moment it became pretty clear that the trophy will go to Podgorica!
Man of the match: Nikola Ivanović! He did not only contribute the crucial buckets, but he also had 17 points, 3 rebounds, 1 assist and steal each and a valuation of 21! He is our man of the match!

Can't trick the stats: Budućnost VOLI were way more accurate than Zvezda when shooting for 2, as they have scored 51.4% (18/35) of their attempts for 2 points from the field, and Zvezda scored only 38.1% (16/42).