Mornar sail into the safe zone by beating FMP
Sunday, 10. March 2019 at 19:00
The boys from Bar have secured their ABA League status for the next season.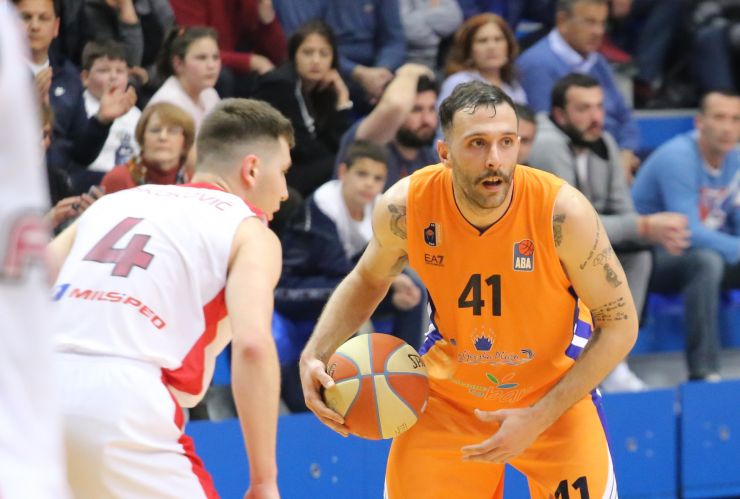 Nemanja Vranjes (Photo: Mornar/MEDIA Pro)
ABA League Round 21, Sunday, 10.3.2019:
MORNAR - FMP 79:69 (23:13, 18:23, 20:13, 18:20)
Game recap: Mornar have secured their ABA League status for the 2019/20 ABA League season by beating FMP in their last home game in the 2018/19 campaign. The boys from Bar have therefore fulfilled their primary goal, which was to avoid relegation to ABA 2.
On the other side, FMP won't be too unhappy with this defeat, as they had already escaped the danger zone. The Panthers played this game without their star player Stefan Pot, while they had only 10 men in the roster for this match. Still, they fought bravely and even had a chance to win the game... However, they just ran out of strength in the last couple of minutes.
Key moments: Mornar have been in front throughout most of the match, however FMP managed to reduce the gap to just 5 points, with 4 minutes left on the game clock - 72:67. Unfortunately for the visitors, Nemanja Vranješ was not so keen on letting them make a major comeback. Mornar's shooting guard scored 7 consecutive points and brought the double-digit lead back to his team - 79:67.
Man of the match: Vranješ was quite impressive this evening. He scored five stunning 3-pointers (all of them from way beyond the 3-point line), while he was the top scorer in the home team with 22 points. And, as we have previously mentioned, he scored those 7 key points late in the game.
Can't trick the stats: While they were unable to stop Nemanja Vranješ and his 3-pointers, FMP squad also had a lot of problems in making their own long-range shots. They scored just 6 threes for the entire game.