Steamroller turned on its engines
Thursday, 26. September 2019 at 16:55
Partizan NIS have defeated Mega Bemax in the opening game of the 2019 ABA Super Cup in Zagreb and have qualified for the Semi-finals.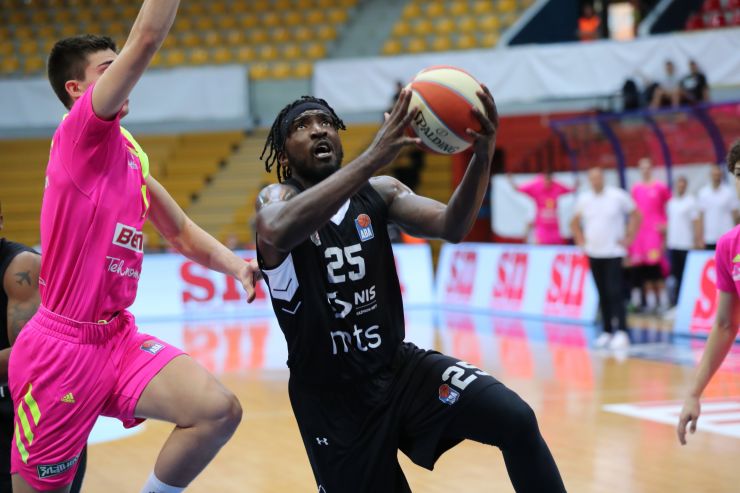 Rashawn Thomas (Photo: Cibona/Zeljko Baksaj)
2019 ABA Super Cup, Quarter-Finals:
PARTIZAN NIS – Mega Bemax 86:73 (18:21, 28:12, 25:16, 15:24)
Game recap: Partizan NIS have become the first semi-finalists of the 2019 ABA Super Cup, as they have beaten Mega Bemax in the first game of the tournament in Zagreb. The black and white will be facing the better team from the clash of Crvena zvezda mts and Koper Primorska, the second Quarter-final pair from the Thursday night.
Key moments: The black and white went off to a slow start of the game, as Mega Bemax were ahead by 21:14 with less than a minute left in the first quarter. However, Partizan NIS got back in the game with 23:7 run within the next 7 minutes of the game and took 37:28 lead. After that, Mega Bemax did not manage to threaten their lead until the end of the game.
Man of the match: Marcus Paige has been the floor general of Partizan NIS last season and he intends to do it in the same fashion this season as well, according to their first official match of the season. He had 21 points, 4 rebounds, just as many assists, 2 steals and a valuation of 27. He is our man of the match.
Can't trick the stats: Partizan NIS have been too strong for Mega Bemax on the glass, as they have outrebounded their opponents 39:33. That was crucial for the outcome of the game.