New trophy in Partizan NIS' cupboard: ABA Super Cup
Sunday, 29. September 2019 at 19:58
Partizan NIS have added another trophy to their trophy cupboard, as they have beaten Cedevita Olimpija in the final of the ABA Super Cup.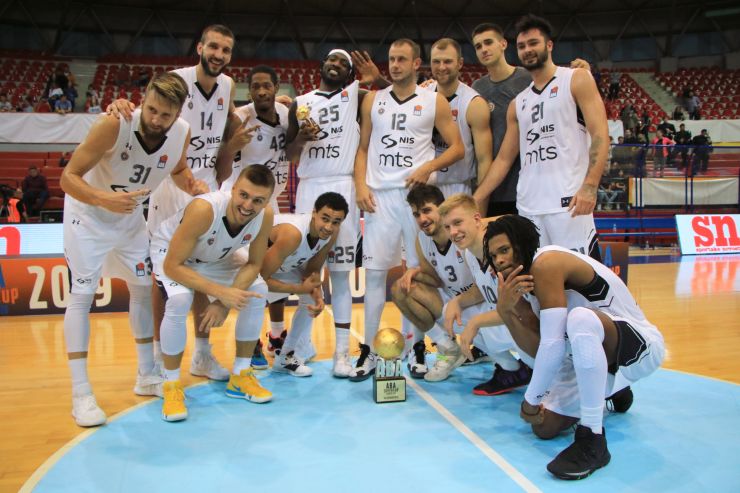 Partizan NIS team (Photo: Cibona/Zeljko Baksaj)
ABA Super Cup, Final, Sunday, 29.9.2019:
Cedevita Olimpija - PARTIZAN NIS 77:99 (20:20, 24:35, 29:29, 4:15)
Game recap: From now on, Partizan NIS' trophy cupboard is even richer, as another trophy has been added to it. The black and white of Belgrade have been stronger than Cedevita Olimpija in the final of the 2019 ABA Super Cup in Zagreb, which means that Andrea Trinchieri's squad have became the winners of the ABA Super Cup for the first time in history, after Cedevita and Crvena zvezda mts have done it in the previous seasons.
Key moments: The black and white have started the game strongly and after the excellent second quarter, their lead grew to 11 points (44:55). In the beginning of the second half, the Belgrade side have managed to even increase their lead to 14 points (60:46) and it quickly became evident that any attempt of a comeback by Cedevita Olimpija would be extremely difficult. And it did not happen.
Man of the match: Point guard Ognjen Jaramaz might not have shined in the opening two games of his team at the 2019 ABA Super Cup, but in the Final he proved himself to be a true floor general. He led his team to the victory with 20 points, 5 assists, 2 rebounds, just as many steals and a valuation of 23 in less than 22 minutes spent on court. He is our man of the match.
Can't trick the stats: Partizan NIS have demonstrated true teamplay in the Final, as they have made no less than 26 assists, while Cedevita Olimpija made 15. That's what decided the flow of the game in the end.