Domagoj Vuković pens new 2-year deal with Zadar
Wednesday, 20. May 2020 at 19:28
The 2nd best rebounder of the 2019/20 ABA League season is staying in the white & blue troops!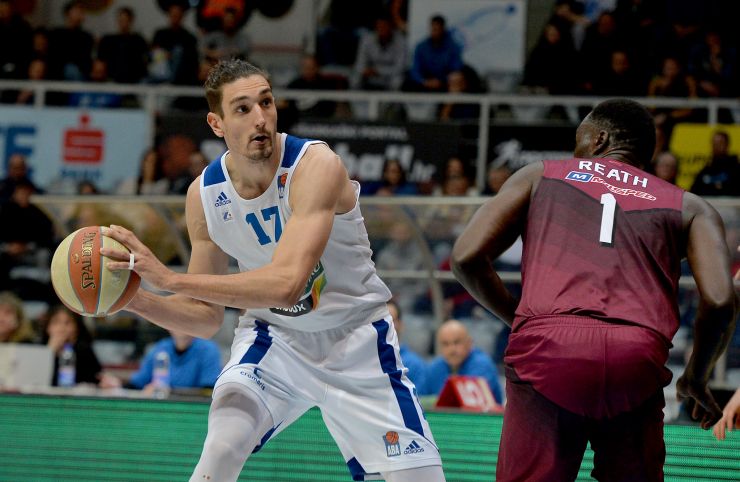 Domagoj Vukovic (Photo: Zadar/Zvonko Kucelin)
It is official! Domagoj Vuković has extended his contract with Zadar for 2 more years!
This is certainly excellent news for all Zadar fans, as Vuković has been one of the best team players in the ongoing season. Vuković averaged 10 points and 7.5 rebounds in the regular season and he was Zadar's best player when it comes to the overall index rating.
After Round 21 of the 2019/20 ABA League regular season, Vuković was holding the 2nd place on the league's Top Rebounders list with the overall number of 158 rebounds. Only Mega's big guy Marko Simonović (160 rebs) has collected more rebounds than Domagoj Vuković so far in this season.
---------------------
Domagoj Vuković produžio suradnju na dvije godine
Košarkaški klub Zadar i Domagoj Vuković postigli su dogovor o daljnjoj suradnji te će 26-godišnji krilni centar braniti zadarske boje i naredne dvije godine.
Podsjetimo, Domagoj Vuković je nakon obustave sezone, ukupno gledajući bio najkorisniji igrač Košarkaškog kluba Zadar i nastupima u sklopu regularnog dijela abaligaške sezone 2019./2020.
Također, Riječanin je nakon odigrane 21 utakmice s ukupno 158 skokova bio drugi skakač ABA lige sa 7.52 skoka po susretu, ali isto tako je prednjačio i u postotku točnosti šuta te je bio četvrti najprecizniji igrač lige za dva poena s čak 70.93% uspješnosti, dok je za tri poena šutirao s 41.07% točnosti.
Konačni indeks korisnosti za prethodnu sezonu Vukovića je istaknuo na specifično 11. mjesto ljestvice najkorisnijih igrača regionalnog natjecanja.