Borac: "Our dream came true"
Thursday, 28. May 2020 at 16:29
After they have been promoted from ABA League 2 to ABA League, Borac management have, as expected, reacted with delight.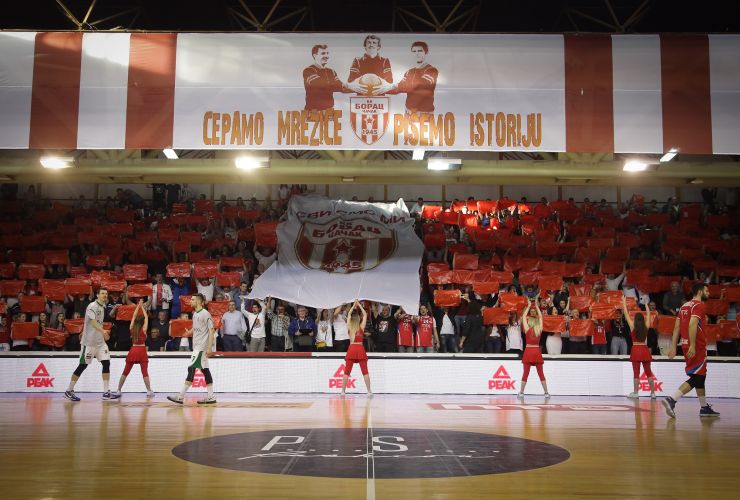 Borac sports Hall in Cacak, Borac fans (Photo: ABA/Ivica Veselinov)
For the first time ever in their club's history, Borac of Čačak will be competing in the strongest regional club competition. However, for the club, that used to play a notable role in the former Yugoslavian national championship, this is actually a return to the big scene, where they believe that they rightfully belong.
Borac President Predrag Pantović told that it is a dream come true for the fans in this town of basketball: "After three seasons, we have finally made our dream come true. We have qualified for the ABA League. I congratulate the players, coaching staff, everybody in the club, fans…" He then went on to add: "We are already thinking about further steps. Perhaps this will motivate new sponsors, maybe some of the old ones come back. It's time to celebrate."
Borac General Manager Marko Ivanović explained how huge this is for the town of Čačak: "It's no secret that this is a big thing not only for our club, but also for the town of Čačak and entire country. Five years ago, I have claimed that Borac deserves a spot amongst the best clubs of the region. We have been making step by step. From season to season we have been improving and in the end we have fulfilled our dream. I hope that this will make all of the people to visit our games even more often. Not only the people from our town, but also from surroundings and why not the entire region!"
--------------------
Borac: "Dosanjali smo san"
Nakon što je klub promovisan iz Druge ABA lige u ABA ligu, uprava Borca je prema očekivanjima reagovala oduševljeno.
Po prvi put u klupskoj istoriji, Borac iz Čačka će učestvovati u najjačem klupskom takmičenju u region. Ipak, za klub, koji je igrao značajnu ulogu u šampionatu bivše Jugoslavije, to pre svega znači povratak na veliku scenu, gde su ubeđeni da pripadaju.
Predsednik Borca Predrag Pantović objasnio je, da se plasmanom u najviši rang klupske košarke u regionu ispunio san navijača u ovom košarkaškom gradu: "Posle tri godine konačno smo dosanjali san. Plasirali smo se u ABA ligu. Čestitam igračima, trenerima, svima u klubu, navijačima…" On je dodao: "Već razmišljamo o budućim koracima. Možda će ovo motivisati nove sponzore, možda se vrate neki stari. Vreme je za malo slavlje."
Direktor Borca Marko Ivanović objasnio je koliko veliki događaj je ovo za čitavi grad Čačak: ,,Nema sumnje, ovo je veliki događaj za klub, ali i grad Čačak, pa i čitavu Srbiju. Još pre pet godina sam rekao da je Borcu mesto u jadranskoj eliti. Išli smo korak po korak, iz sezone u sezonu smo bili sve bolji i bolji, da bi na kraju ostvarili svoj san. Nadam se da će ovo naterati ljude da u još većem broju posećuju utakmice Borca. I to ne samo ljudi iz grada, već i okoline, pa zašto da ne i regiona".