Landry Nnoko pens deal with Crvena zvezda mts
Monday, 29. June 2020 at 20:18
The first newcomer in the 2020/21 Crvena zvezda mts roster is Cameroonian center Landry Nnoko!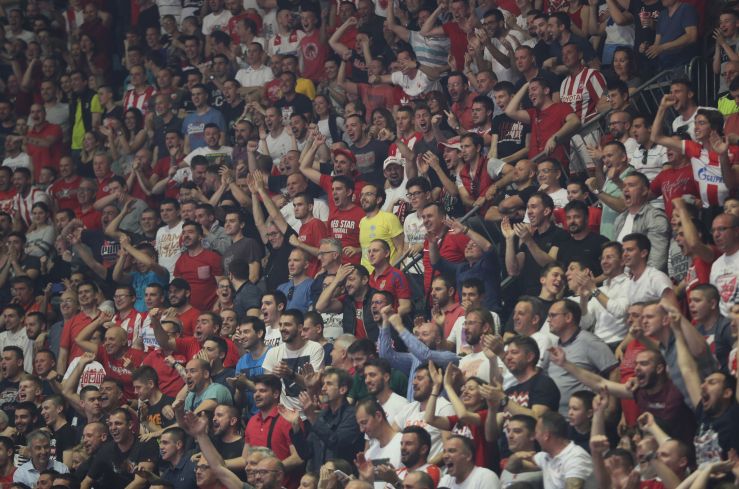 Crvena zvezda mts fans Delije (Photo: Crvena zvezda mts)
Crvena zvezda mts have made their first move on the 2020 summer transfer market as they signed a contract with 26-year old Cameroonian center Landry Nnoko.
Nnoko spent the last season in Alba Berlin with whom he won the 2019/20 German Championship, while he averaged 8.7 points and 5.8 rebounds in the 2019/20 EuroLeague season.
This 208cm tall big guy had spent four years at the Clemson University (2012-2016), before starting his pro career in Europe. He played for Victoria Libertas Pesaro in the 2016/17 season, then he went back to the USA and joined Grand Rapids Drive in the G-League for the 2017/18 season, while the last two years he played for Alba Berlin.
In the next season, Landry Nnoko will defend the red & white colors of Crvena zvezda mts.
-----------------
Lendri Nnoko novi centar Crvene zvezde mts
Kamerunski centar Lendri Nnoko prvo je pojačanje KK Crvena zvezda mts za novu sezonu!
Bivši centar novog šampiona Nemačke Albe iz Berlina je rođen 9.aprila 1994. godine u glavnom gradu Kameruna Jaundeu.
Visok je 208 centimetara i težak 113 kilograma. Prve ozbiljne košarkaške korake pravio je u SAD, kroz srednju školu "Monteverde" na Floridi, kasnije i na čuvenom koledžu "Klemson".
Nakon epizode u Sjedinjenim Državama, Nnoko je gradio svoju karijeru u Evropi, igrajući za ekipe Pezara, turske Sakarije,a poslednje dve sezone sa velikim uspehom nastupao je u Berlinu za ekipu ALBE sa kojom je nastupao u Evroligi i osvojio i titulu prvaka Nemačke. U Evroligi je na 28 utakmica imao prosek od 8.7 poena i skoro 6 skokova, a na 4 utakmice imao je dabl-dabl učinak sa dvocifrenim učinkom u broju poena i skokova.
Takođe, tokom sezone 2017-2018 Nnoko je bio član Detroit Pistonsa, a kroz nastupe u razvojnom timu "Grand Rapids Drive" izborio se i za prestižnu titulu najboljeg defanzivca "G lige"!
Radi se o velikom borcu, izuzetno snažnom košarkašu i timskom igraču, koji će Crvenoj zvezdi doneti veliku energiju, mnogo skokova i čvrstinu pod košem. Veliko zadovoljstvo predstavlja i činjenica da je Nnoko pored nekoliko većih i finansijski izdašnijih ponuda evroligaških klubova – izabrao Crvenu zvezdu u kojoj je video pravo mesto i sredinu da nastavi da napreduje kao igrač!