INTERVIEW: Maik Zirbes – "Let's keep fighting together until the end"
Wednesday, 10. February 2016 at 11:00
Iron Maik. Yes, the nickname may refer to the famous boxer, but not if you are an ABA League fan. In this world, that nickname belongs to only one player - Maik Zirbes of Crvena zvezda Telekom.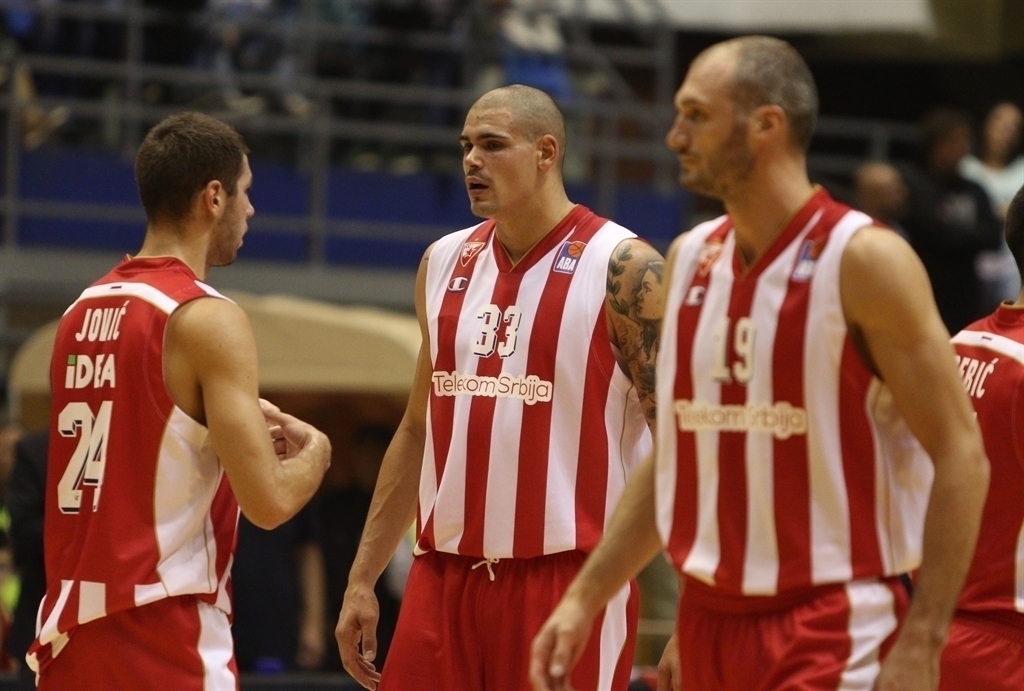 Iron Maik. Yes, the nickname may refer to the famous boxer, but not if you are an ABA League fan. In this world, that nickname belongs to only one player - Maik Zirbes of Crvena zvezda Telekom.
German international has grown into one of the most dominant centers in the competition. Still, he never puts individual achievements in front of the team"s success...
Crvena zvezda Telekom scored another win in the ABA League, while the race for the second place heats up. How much would that second spot and a home court advantage mean for you in the Playoffs?
"A lot. Home court advantage does not gurantee you that you will win the game, but it is always better to play in front of your fans. Especially, when you have the fans as we do…"
You direct opponent in that race is Cedevita, a team that you will also face in your next Euroleague game…
"They are very good indeed. The thing they are in TOP 16 tells you enough about their quality. We are facing them in the next Euroleague game and there is no doubt it will be a tough challenge. Still, we want to make a statement in that match. We are playing at home and we want to show our full power."
This is your second season in ABA League and definitely the best season in your life. How much did ABA League help you to grow into such a player?
"It's not just the ABA League… The whole thing about Crvena zvezda and moving to Belgrade helped me to play like this. I have already said it many times, I feel very comfortable here and everything is just perfect. People in Belgrade are living for basketball and they really understand the game. I have a good coach and good teammates. You know, when you are playing at my position, you depend a lot on your teammates, as someone just needs to pass the ball to you. Therefore, I owe much to them."
You mentioned Belgrade. It seems that the city has already become a very special place for you. Which things do you enjoy the most?
"Oh, I do not know where to start. I simply enjoy everything here. Belgrade has become my second home for sure."
Finally, you have a very good connection with the fans of Crvena zvezda Telekom. To put it this way - They just love you. Do you have any message for them for the rest of the season?
"I would tell them to come and support us, but I do not need to. They will come anyway. We are all really happy and proud to have such a crowd on our side, so my message might be - Stay where you are, and let's keep fighting together until the end."
--------------------
Maik Cirbes: "Zajedno do kraja"
Gvozdeni Majk. Da, nadimak koji može da se odnosi na poznatog boksera, ali ne i ako ste fan ABA lige. Jer u ovom svetu, taj nadimak pripada samo jednom čoveku - Majku Cirbesu, košarkašu Crvene zvezde Telekom.
Nemački internacionalac je izrastao u jednog od najdominatnijih centara u regionu. Ipak, njega nikada nećete videti da stavlja lični uspeh iznad timskog...
Crvena zvezda Telekom je ostvarila novu pobedu u ABA ligi, čime je trka za drugo mesto postal još uzbudljivija. Koliko bi ta druga pozicija i prednost domaćeg terena značila za vas u plej-ofu ABA lige?
"Mnogo! Domaći teren vam ne garantuje da ćete pobediti, ali je uvek bolje kada igrate pred vašim navijačima. Posebno, kada imate navijače kao mi…"
U toj trci za drugo mesto vaš direktan protivnik je Cedevita, tim sa kojim ćete odmeriti snage u narednom kolu Evrolige…
"Veoma su dobri zaista. Činjenica da igraju TOP 16 fazu dovoljno govori o njihovom kvalitetu. Sa Cedevitom igramo u sledećem kolu Evrolige i nema dileme da nas očekuje težak zadatak. Ipak, mi želimo da pošaljemo poruku u toj utakmici. Igramo na našem terenu i želimo da pokažemo našu punu snagu."
Ovo je vaša druga sezona u ABA ligi i, čini se, vaša najbolja sezona u karijeri. Koliko vam je ABA liga pomogla da izrastete u takvog igrača?
"Nije u pitanju samo ABA liga. Cela ova priča sa Crvenom zvezdom i dolaskom u Beograd mi je pomogla da igram ovako. Već sam mnogo puta rekao, ovde se osećam jako dobro i sve je prosto savršeno. Ljudi iz Beograda žive za košarku, a takođe razumeju igru, dok u Zvezdi imam dobrog trenera i saigrače. Znate, kada igrate na mojoj poziciji onda mnogo zavisite od saigrača, jer neko prosto mora da vam doda loptu. Stoga, zaista mnogo dugujem ostalim momcima."
Spomenuli ste Beograd. Čini se da je grad već postao nekako posebno mesto za vas. U čemu uživate najviše?
"Ne znam odakle da počnem. Jednostavno uživam u svemu. Beograd je definitivno postao moja druga kuća."
Na kraju, izgradili ste sjajan odnos sa navijačima Crvene zvezde Telekom. Najkraće rečeno - oni vas obožavaju. Da li imate neku poruku za njih pred nastavak sezone?
"Poručio bih im da dolaze na utakmice i pružaju nam podršku, ali prosto nema potrebe jer znam da će to svakako činiti. Svi u timu smo srećni i ponosni što imamo takvu publiku na našoj strani, a moja poruka bi mogla da bude - Ostanite tu gde ste i hajde da se zajedno borimo do kraja."