In loving memory of Mozart of basketball
Sunday, 22. October 2017 at 10:00
53 years have passed, since the international basketball community was blessed with the birth of one of the greatest – if not the greatest – European basketball players of all times.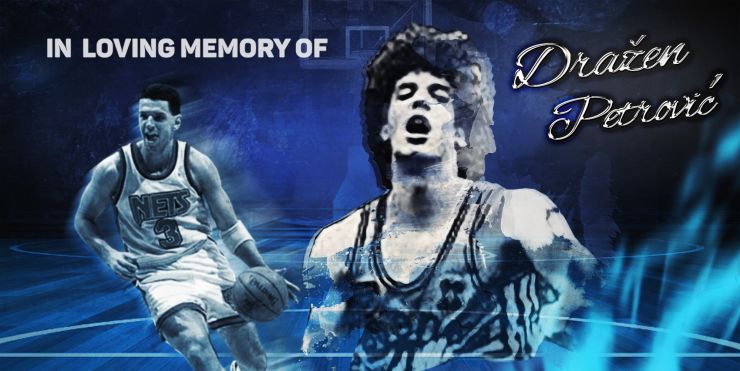 In Šibenik, 53 years ago from today, the Mozart of basketball, as Dražen Petrović was often refereed as, was born. A kid that amused everyone that got in touch with him with his passion for the beautiful game of basketball, his everlasting motivation and working ethic… which have combined inevitably had to lead the youngster towards the stars and the fulfilment of his dreams – to become the best of all.
There is no need spend too much time wrighting about Dražen Petrović's fantastic achievements, which are well known to every true basketball fan on the planet. As a 19-year old kid, he took his hometown club šibenka to the finals of Radivoj Korać Cup and Jugoslavian National Championship, the one that he managed to conquer two years later with Cibona, that he took also to the European club basketball throne.
For almost every basketball player it would have been a dream come true, but Dražen did not stop there, but continued to amuse the fans at an even bigger stage - first playing for Real Madrid, for which he scored no less than 62 points in the European Cup Winners Cup to take them to the top and later in the NBA. Even though a path towards success beyond the Atlantic was not an easy one at all for an European player at the times, his will and determination made him shine bright in the New Jersey Nets jersey and… as it turned out later, his performances were the ones that paved the way for many Europeans afterwards, that tried their luck in the strongest club competitions in the world.
As everywhere else, Dražen left an ineradicable mark wearing the jersey of Yugoslavia national team, with which he won the gold at European and World Championships, as well as silver at the Olympic Games. Later, he was named the first captain of Croatia national team.
Dražen played his last ever game on 6 of June with Croatia national team against Slovenia in Poland, before the tragical accident occurred on his way home, on the motorway in Germany. More than 24 years have passed since then, but his spirit is indeed still alive. Basketball fans still happily remember the glory days of his Cibona, Yugoslavia and Croatia national team and he is still the biggest inspiration of all for the younger generations of basketball fanatics in our region.