Marcus Paige two seasons with the black and white
Wednesday, 11. July 2018 at 10:11
Marcus Paige is the new Partizan NIS point guard. The North Carolina graduate has signed with the black and white.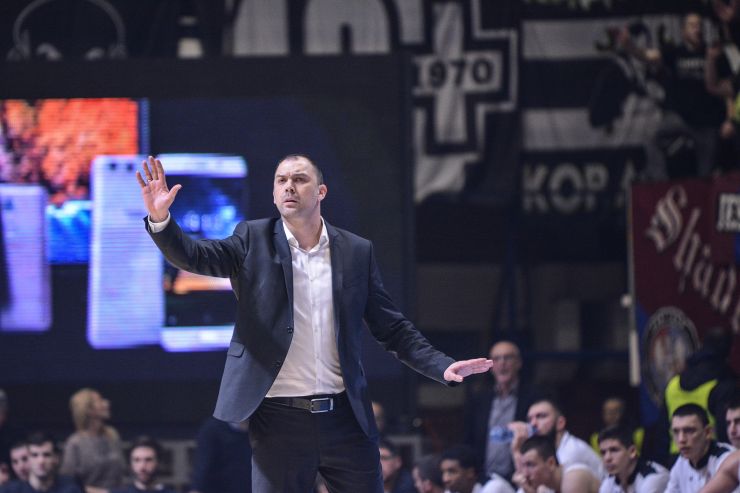 Nenad Canak (Photo: Partizan NIS)
The 183 cm tall American has played the 2016 NCAA Final. He scored 21 points, including an important 3-point shot with five seconds left on the clock. He was selected at the 2016 NBA Draft as the 55th pick by the Brooklyn Nets, but was traded to Utah immediately. After playing well for the Jazz G League team and in the Summer League, he signed with Charlotte. He played 5 games for the Charlotte Hornets o far.
In his last season in North Carolina Marcus Paige set the University record by the number of 3-pointers scored during his college career. He scored 299.
--------------------
Markus Pejdž dve godine u crno-belom
Markus Pejdž je novi plejmejker Partizana. Diplomac čuvenog Univerziteta Severna Karolina, noćas je potpisao sa dvogodišnji ugovor crno-belima.
Američki košarkaš rođen je 11. septembra 1993. godine u Sidar Rapidsu u Ajovi. Visok je 183 centimetra i sa Univerzitetom Severna Karolina Pejdž je igrao finale NCAA lige 2016. godine. U tom čuvenom finalu protiv Vilanove, Pejdž postigao je 21 poen, uključujući i pogodak za tri poena pet sekundi pre kraja utakmice, koji ipak nije obezbedio pobedu njegovoj ekipi. Na NBA draftu iste godine izabran je kao 55. pik od strane Bruklina, ali je odmah prosleđen Juti. Nakon dobrih igara u razvojnom timu Džezera i nastupa u Letnjoj ligi, potpisao je dvosmerni ugovor sa Šarlotom. Odigrao je 5 utakmica za Hornetse i 46 za njihov razvojni tim u kojem je prosečno beležio 15.2 poena, 3 skoka i 4.5 asistencije po utakmici.
U svojoj poslednjoj sezoni na Severnoj Karolini, Pejdž je postavio rekord univerziteta po broju postignutih trojki tokom koledž karijere. Pogodio ih je 299.