Fantastic first half gave Partizan NIS a win over Cedevita in Zagreb
Saturday, 29. September 2018 at 20:00
In the opening round of the season, Partizan NIS achieved a huge and important victory over Cedevita on the road in Dom sportova, Zagreb.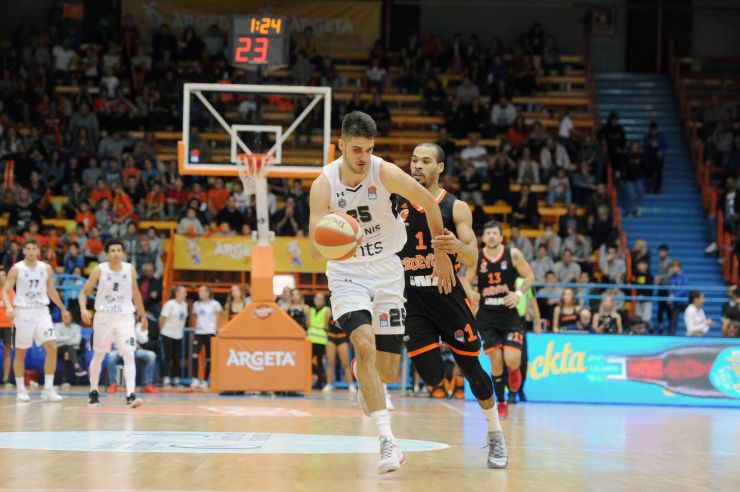 Rade Zagorac (Photo: Cedevita/Marin Susic)
ABA League Round 1, Saturday, 29.9.2018:
Cedevita – PARTIZAN NIS 84:87 (17:28, 15:25, 26:18, 26:16)
Game recap: Partizan NIS have begun their ABA League season just the way they have desired – with a huge road win over Cedevita in Dom sportova, Zagreb. The black and white have shocked the hosts with energy-packed beginning of the game and managed to pull away quickly. Cedevita tried to get back into the game later, but did not manage to come up with a major comeback. This is only the second win of Partizan NIS on the road in Zagreb against Cedevita in the entire regional league history and the first one after 2035 days!

Key moments: Partizan NIS went up by 11 points by the end of the first quarter and have even furtherly increased their advantage to 21 points by halftime. Cedevita did fight back in the second half and cut the deficit to only a point within 2 minutes until the end of the game. However, Rade Zagorac stepped up and scored a key three-point shot with 70 seconds remaining on the clock, which put his team ahead by 4 points again. The rest was history!
Man of the match: Vanja Marinković! The Partizan NIS young gun scored 25 points (4/6 for 3 points), while adding 4 assists and a rebound to his stats, leading the way for the Steamroller on their way to the victory. He is rightfully our man of the match.

Can't trick the stats: Assists/turnovers ratio reveals a lot about the flow of the game. While Partizan NIS had 19 assists and 12 turnovers, Cedevita only had 15 assists and 14 turnovers.